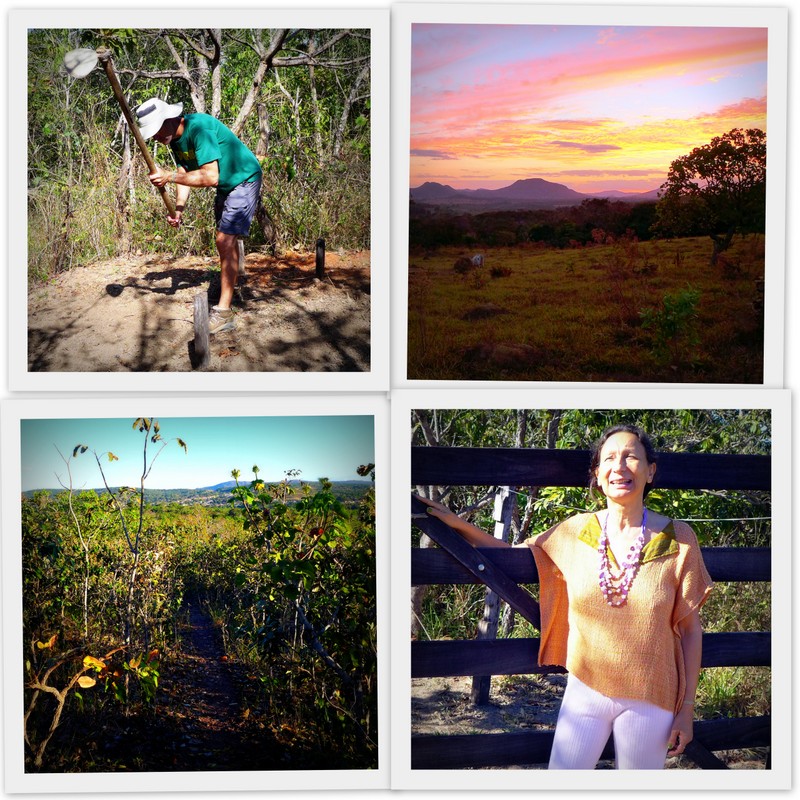 I spent eight days working on an organic farm through WWOOF International (World Wide Opportunities on Organic Farms) at Chácara Canto Guardian just a couple kilometers outside of the charming town of Pirenópolis in Goiás state in central Brazil. This was something I've wanted to do for some time.

It was a superb experience – the host Julia greeted me each morning with a smile and hug, fed me healthy and hearty organic meals, gave me a list of manageable tasks that I willingly did each day, and offered me a comfortable cottage where I could relax in private.
Canto Guardian isn't a typical WWOOF property since it's not really a full-fledged working organic farm. While Julia does have a couple of vegetable gardens, banana and coconut trees, and a bounty of medicinal herbs, she is a full-time professor and has only part-time help so her farming operations are limited. And since I arrived in the dry season and the irrigation system is just being built, there was little hands-on gardening during my stay.
But each WWOOF experience is unique and I found magic while walking the nature trails, observing the birds and butterflies and bugs, marveling at each sunrise and sunset, and chatting with Julia while swinging in a hammock. What follows is the diary of my WWOOFing days.
See Part Two for the second-half of my experience. Also check out my recommendations to anyone interested in giving WWOOF a try.
Monday, July 15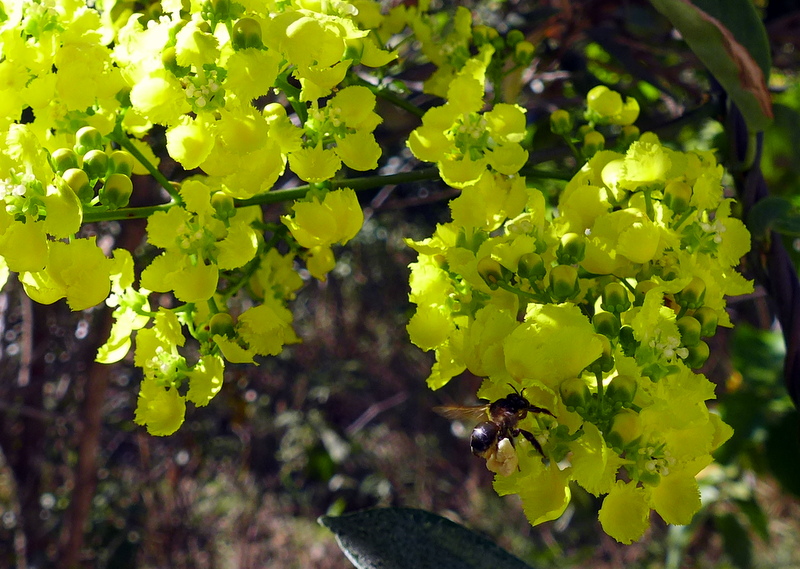 I wake up late to sunshine. It's a welcome change from the cloudy skies and rain of interior Bahia state. Before heading to breakfast, I sit and admire the surrounding green hills and the bees busily working the bright yellow blossoms outside my door.
I notice the following posted near my terrace. It pretty much sums up the tone of this place:
Bem vindo!
Você está no Canto Guardian.
Silencie seus pensamentos e busque entrar em contacto com seu Eu interior.
É importante estar presente.Você faz parte de um todo, descubra seu valor e contribua com o colectivo.
Convidamos todos a desenvolvero senso de presença através da observação.

Welcome!
You are at Guardian Song
Silence your thoughts and seek to contact your interior You.
It is important to be present. You are part of a total, discover your value and contribute to the collective.
We invite everyone to develop a sense of presence through observation.
Julia, my host, is sweet and welcoming. She has a childlike laugh and broad smile and takes time to introduce me to the property. There is a main house, open and airy with a basic kitchen and a large living room fitted with a yoga mat where she does tai chi and meditation. A spacious veranda wraps around the main house where we spend most of our time – there are hammocks, comfortable chairs, a large table for meals, and some of Julia's small art objects comprised of stones, seeds, feathers, plants and other natural effects gathered nearby.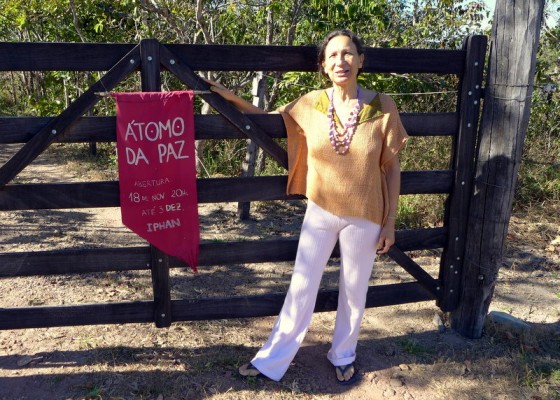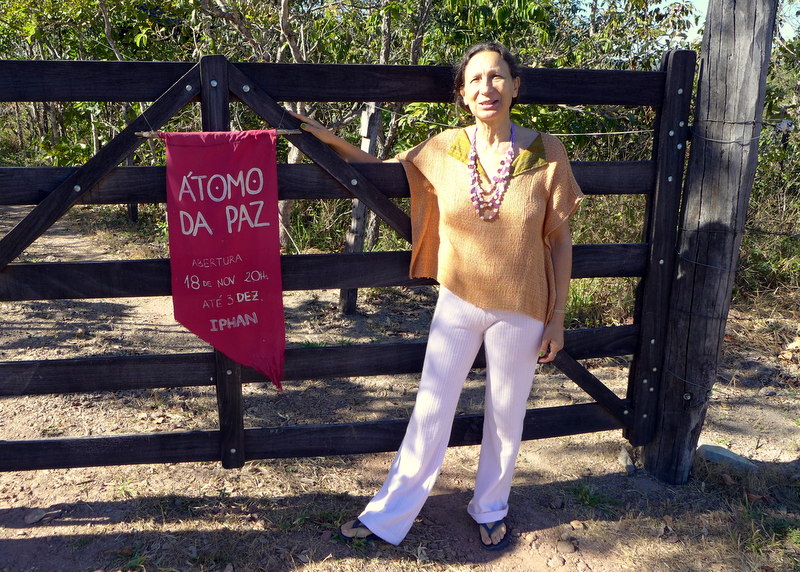 I learn that currently there are no active gardens which changes my WWOOFing expectations. Julia is a professor at the Federal University of Goiás and only maintains an organic farm during the wetter summer months when irrigation is less toiling and she is less consumed by her teaching duties.
So the tasks during my stay will be essentially property maintenance: clearing out drainage canals, thinning the thickets and gathering firewood for the stove, painting, repairing furniture, maintaining the trail system and restoring the placards indicating the many tree types found on the property (sucupira, vinhático, aroeira, carvoreiro… none of these are in my dictionary). I'm not exactly working with exotic tropical fruits or harvesting cacao or coffee beans but fine to me all the same. It's a beautiful setting with a wonderful host and I have a comfortable and private suite all to myself – it really is ideal.
So off to work! I started by repairing a table that was in desperate need of glue and new screws for support, added new signage to the guest cabins, moved mattresses and cleaned up the guest areas for the soon-to-arrive Chileans. It's light-ish work but it feels good. Julia lets me work very independently and is very helpful when I have questions.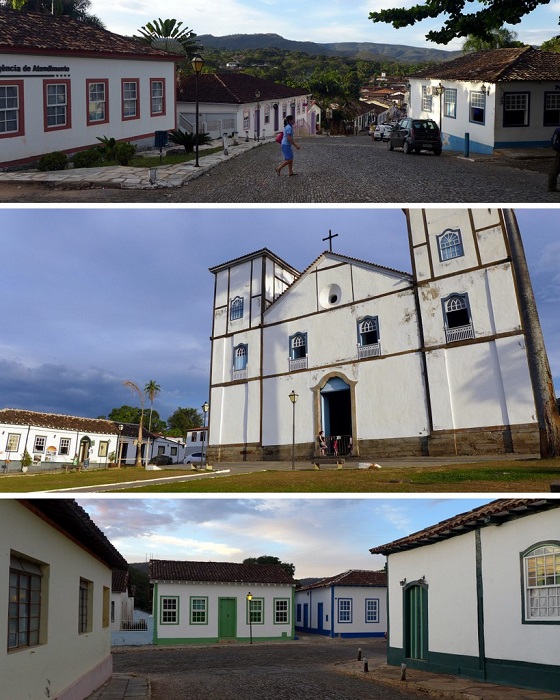 In the evening I stroll through Pirenópolis, a gem of a gold-rush town with cobbled streets, an appealing mix of colonial and Art Deco buildings, and with a slight hippy bend. It's pretty quiet during the week – Pirenópolis is devoid of visitors save for the roving groups of escoteiros, adolescent scouts from larger Brazilian cities now on winter break. The number of tourist-oriented shops and restaurants, however, indicates that this place gets filled on weekends.
Off to bed early… I was awfully tired from the all-night bus journey on Saturday followed by a full day of sightseeing in Brasília and the night drive to Pirenópolis with Julia, we didn't arrive until 3 AM this morning!
Continue reading 'WWOOFing It in Pirenópolis, Brazil – Part I' »