17 Dec 2002
Greetings again! I've been in Santiago, Chile for the past few days and have enjoyed myself greatly. I wasn't sure what to expect of the city, but many other travelers I met had fine impressions, and boy were they right! Santiago, like Buenos Aires, is a very modern, first-world city with abundant parks, paseos (pedestrian walkways), beautiful plazas, interesting architecture, and the people refreshingly friendly for a large, and in many ways, congested city.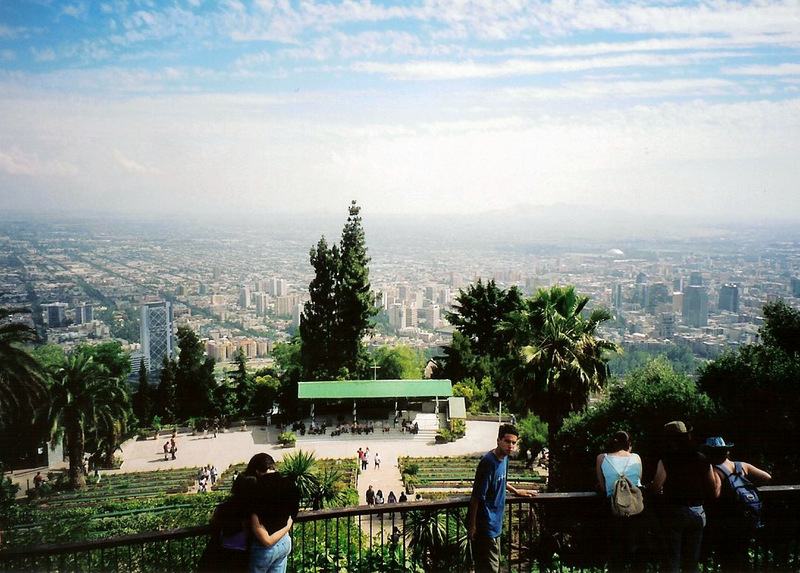 I arrived the afternoon of my birthday, having spent the first half of the day on a bus crossing the Andes from Argentina — a thrilling ride, down a dizzying series of serious switchbacks to the temperate valley, rife with vineyards, olive groves, etc.  I had spent the night before in a small Argentine town near the border, Puente del Inca, so I could hike beneath the massive Cerro Aconcagua (America's highest peak).
The town also is known for its unusual natural wonder:  a massive bridge over the mountain river from Aconcagua, created from sulfite buildup from the thermal springs that abound in the area.  In the early last century a spa was built over the hot springs and alongside the bridge, but is now a ruin.  Built in the form of Roman baths, with several adjoining baths of varying temperature, the dilapidated edifice made for great atmosphere.  The morning of my birthday I went for a dip as the sun rose over the jagged peaks.  I had the place completely to myself!  It was pretty cool.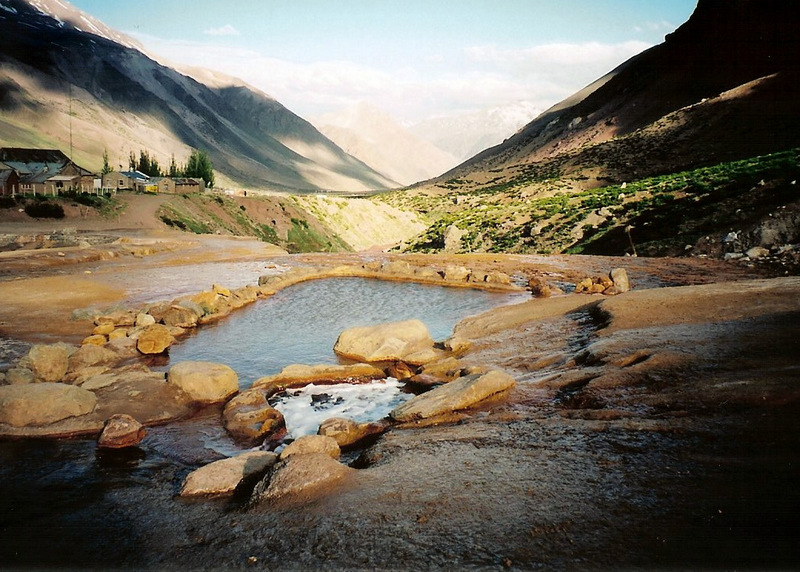 On arrival in Santiago, I wasted no time getting a place to stay, securing tickets for an evening theater show, and proceeded to the bohemian Bellavista neighborhood with funky bistros and a very hip nightlife.  I grabbed an excellent dinner at a local seafood restaurant, made it to the theater on time (just barely) and was greatly entertained by the show.
The theater is in a restored old convent (strange place for a theater, but they did a great job), and the show an adaptation by a local writer (Pedro Lembel) of his book, De perlas y cicatrices, that weaved together five separate stories that take place in a post-Pinochet Santiago. It really underscored the complexities and contradictions of current life in this city. Clearly, the divisions and antagonisms surrounding Pinochet's brutal regime are far from resolved, and are perhaps exacerbated by the current popular (and socialist) president Lagos despite his best intentions to "move beyond" the Pinochet years.
Santiago, a happy place where the masses go shopping, fill the cafes and bars, and generally enjoy the pleasant public spaces the city offers, is also heavily policed. The national police, the carabineros, appear on many busy street corners, ride the subway, gather in groups and walk the paseos, in effect they are everywhere are their presence is always felt (I did not have this impression at all in Buenos Aires). While apparently professional, they are still a omnipresent part of Chilean society. And Chile seems still heavily militarized, with army and navy posts in all of the major towns and borders.
But the chilenos do not seem to pay close attention to this, and I have never seen any sort of hassling occur (except once they removed a belligerent drunk from a supermarket). Most Chileans are busy with Christmas, packing into stores, strolling the paseos eating ice cream and listening to the ever-present Christmas carols broadcast from all sides. It's hot here, most people in shorts, yet loads of fake decorated trees and Bing's "White Christmas" in the air. Coming from cold Iowa and New England, a warm Christmas seems so improbable.
On Sunday I spent the day sightseeing in Santiago, enjoying greatly the museums, palaces, Mercado Central (central market crammed with beautiful fruits — some quite exotic — and fantastic seafood restaurants), and the parks, where I spent the afternoon riding the funícular and telesférico to the high peaks and marveling at the fine views of the sprawling city surrounded by the snow-capped and soaring Andes.
Especially worthy was the tour of Pablo Neruda's house; he's one of my favorite Latin American poets of all time, and one of the two literary Nobel laureates from Chile. Named La Chascona, or "The Unruly Hair" after his third wife's Medusa-like doo, it is quite extraordinary in both layout and decor. It was great to visit his eccentric Santiago house (one of three in the country) which added significantly to my understanding of poet's life and works.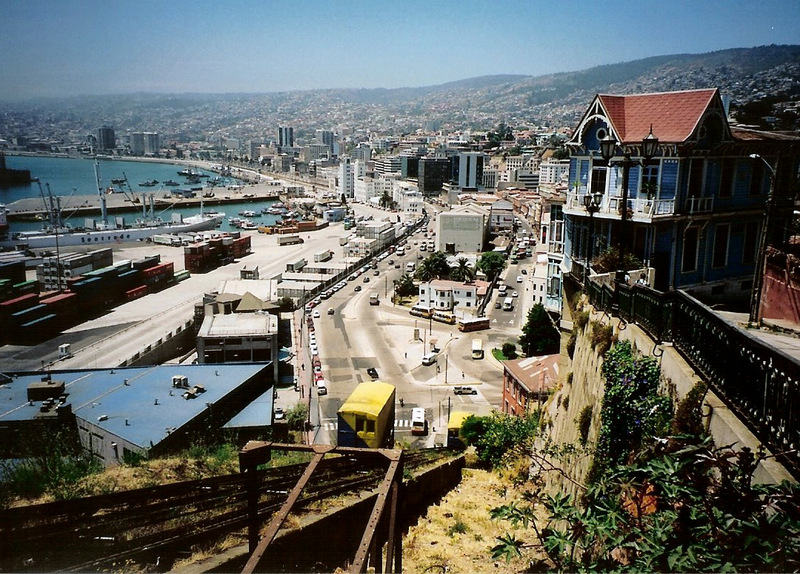 On Monday I took a day trip to Valparaíso and thoroughly enjoyed the character of this distinctive port town.  I especially liked riding many of the dozens of acensores (funicular tramways) that hug the city's many substantial hills and offer great views of the town and Pacific Ocean.
I had what I thought was a delicious lunch of grilled sea bass at a highly recommended restaurant, but upon returning to Santiago I found myself quite sick. Several vomiting episodes later, I was dehydrated, feverish, and unable to keep down any water or medicine (I even used the big guns Cipro but out it came within a few minutes).
Feeling exceptionally bad and a bit panicky (I had never been this sick from food poisoning before), I enlisted the help of the matronly and sympathetic hotel owner, who directed me to the nearest clinic. This was a modern and well-staffed emergency room associated with the Catholic University of Chile, and I was much impressed.
Despite an hour wait at the reception, I received excellent and professional attention, was administered an IV (I think it included an antibiotic) after which I felt much improved and the vomiting had subsided. I was even able to hold some water, which was a great relief since I was extremely thirsty. The doctor was careful to explain everything slowly in Spanish, and took considerable effort to appropriately diagnose the sickness. The nurses were very sweet, always checking on me every few minutes, bringing me a blanket, etc. I received a prescription for two medicines that I must take for the next five days (a digestive regulator and a muscle relaxant for my sore stomach and bowels).
I went back to the hotel, where I slept in fits, but was able to regularly take sips of water (I'm glad I brought rehydration salts!). Today I feel much better, but very tired and still "problematic" in the lower section, but I've been resting, eating yogurt, bananas, and peeled apples, and of course drinking lots of water.
Tonight I travel home and the doctor said this was OK provided today I don't have a fever or other serious symptoms. Honestly after such a jolt to the system, I'd rather be home to recuperate and am thankful the worst is over.
Except for the last day, this has been a problem-free trip, packed with spectacular sights and excursions, the regular meeting of fellow backpackers with great stories and travel wisdom, and opportunities to just hangout out in Latin America which I appreciate more each time I come. Another one for the books. What next? Oh, how I love to travel!
Pedro, el enfermo pero en rumbo a casa