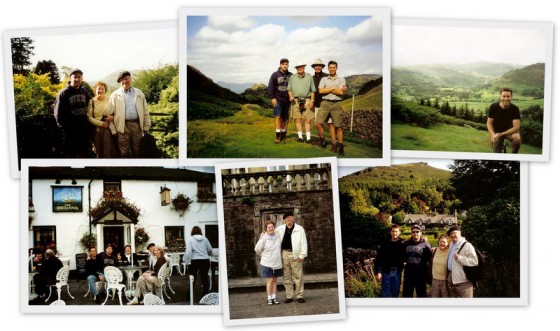 To celebrate Dad's retirement from a long and distinguished career as a British Literature teacher, the family (Erik, Paul, Kelly and Dad) flew from the Midwest to Glasgow where I met them.  After a quick tour of the School of Arts and other Charles Rennie Mackintosh architectural gems, we departed urban, proletariat Glasgow and drove south to the English Lake District.  We rented the pleasing self-catering Fairfield Cottage on the outskirts of Grasmere village.  We enjoyed great views of the surrounding fells and fields, full of green splendor and pastures of bleating sheep.
Grasmere was home to William Wordsworth, a favorite Lake Poet of Dad's, who for 14 years lived in Dove Cottage.  Wordsworth and his friend Samuel Taylor Coleridge (who also spent time at Dove Cottage) launched the Romantic Movement in England.  The literary importance of Grasmere is exceptional, and it was a special trip for Dad to experience first-hand the natural and cultural richness of the area.
In addition to listening to lectures at Dove Cottage and visiting the other villages where Wordsworth spent time, notably Hawkshead as a child, we were able to walk in the stunningly beautiful Lakeland fells, following the steps of Wordsworth who spent considerable time rambling the same footpaths and trails.
Of special interest to Dad is the pronounced Scandinavian heritage of the Lake District, which was settled by the Vikings in the 9th and 10th centuries (the name Grasmere originates from Old Norse).  After a long search for Dad's "Holy Grail", we finally found the renown Gosforth Cross, a Norse high cross over 1,000 years old.
When we weren't busy sightseeing, we were blessed with marvelous weather and enjoyed relaxing days at the cottage or in the village.  Paul joined us and soon afterward his mother Liz, who grew up in the Cotswolds in southern England.  The tea kettle was boiling throughout the day, as we chatted and laughed, did crosswords, ate English toffee and chocolates,  glanced over glossy photos of mediocre monarchs in Hello! magazine and followed the 2000 US Presidential election in The Guardian daily from Manchester.  Evenings were spent in pubs over tall pints of bitter and ale, eating fresh-catch trout from the rivers and other local fare.  I sampled every sticky toffee pudding available, my favorite dessert.
At the conclusion of our Lakeland holiday we set out through Northumbria to visit Hadrian's Wall.  In Edinburgh we sadly parted ways with Dad and Kelly who were returning home.
Erik and I continued our travels to Ireland, first stopping in Liverpool before catching a ferry to Dublin.  We then headed to Limerick to experience the grittiness captured in Frank McCourt's Angela's Ashes.  We then enjoyed the spectacular Cliffs of Moher facing the seaward Aran Islands and the equally spectacular sounds of tiny Doolin, a sleepy coastal village by day but which rocks with traditional folk music by night.  Our taste of Ireland was short and sweet, we were soon headed to London where Erik headed home, and I to Madrid to continue travels with Paul in Iberia and Morocco.
The week was a precious gift, the time with loved ones in a supremely lovely setting was simply wonderful.  I am so thankful we were able to be together as a family in this special place, to recognize and celebrate the enormous contributions Dad has made to his many, many fortunate students over the decades.
And I am forever grateful to not only to be his son, but also to have been his student.  An exacting professor, he made us keenly aware that words matter, they are important and consequential; with literature in particular we measure and examine our society.  In both the classroom and living room, Dad brought life to the English language, and his literary teachings opened new worlds to my 17-year-old eyes.  He is my best teacher and I carry his lessons with me always.
These days remain a splendid time in my life: two unforgettable weeks of family love and fun, colors and sounds and flavors of England and Ireland, the textures of the lakes, the fells, the sea, the grass, the sky, the faces and voices of those I love… each moment a daffodil in my field of memories!
For oft, when on my couch I lie
In vacant or in pensive mood,
They flash upon that inward eye
Which is the bliss of solitude;
And then my heart with pleasure fills,
And dances with the daffodils.

From I Wandered Lonely as a Cloud
by William Wordsworth