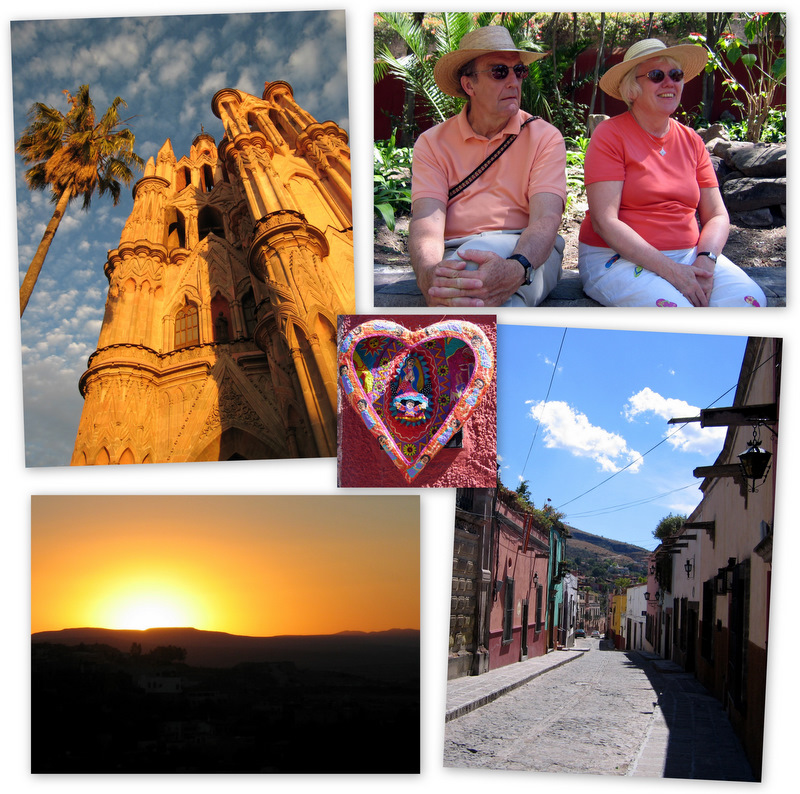 Just before starting a new job, I headed south of the border for my first trip to Mexico, and it was love at first sight. It was a delight to be with my Mom and Ray in such a beautiful, friendly and accessible town.
Set in the mountains of Guanajuato state about 4 hours north of Mexico City, San Miguel de Allende was strategically important during the Spanish colonial period serving as a military and commercial stronghold on the silver trail connecting the mines of Zacatecas. Two of San Miguel's favorite sons, Ignacio Allende and Juan Aldama, played critical roles during the War for Independence from Spain.
In the 1930's the appealing city began attracting visitors and artists from abroad who established the Instituto Allende and the Escuela de Bellas Artes. After World War II, significant numbers of US veterans returning from battle chose San Miguel to study under the G.I. Bill and many later returned to retire. Thus the special relationship of San Miguel de Allende and its expatriate community was born and continues to this day.
My stepfather Ray discovered San Miguel by accident after chatting with a stranger in a Minneapolis coffee shop. Recently retired, Ray was looking for a warm weather escape and was targeting Costa Rica. But after the casual conversation over coffee, Ray changed his plans and was immediately charmed by San Miguel. He has returned nearly every year since that first fateful visit.
My mother, too, quickly became enamored with San Miguel after visiting and made annual pilgrimages there with Ray. It was time for me to pay attention to this special city and so on a late January evening I found myself exiting a taxi in the Jardín, the handsome town square in the heart of the historic center.
I spent the next few days wandering the cobblestone lanes admiring the exquisite colonial buildings. I was impressed by the subdued expat presence, there were no chain hotels or restaurants and every non-Mexican I met was genuinely committed to preserving the unique culture without overwhelming with the typical yanqui demands and expectations.
I was struck by the gregariousness and humility of the Mexican people, always friendly and helpful. I enjoyed fresh-squeezed fruit juices, delectable meals with local ingredients, market errands and shady cafe conversations, and a wealth of art and music each night. The lovely Latin American sights and sounds and smells surrounded my every turn. Smitten with San Miguel, I now understood its draw for Mom and Ray.
I was not ready to leave after these exceptional few days; I could have easily spent weeks. But with the new job awaiting, I said adios to San Miguel, Mom and Ray. Before boarding the bus back to Mexico City airport, I grabbed my last fresh torta, the peculiar Mexican sandwich of which I grew especially fond of during my stay. Enjoying every last bite of my torta, toasted fresh bread stuffed tight with crisp vegetables, tasty cheese and chile spices, I watched the arid Guanajuato landscape pass by. A filling farewell.
It was the end of my inaugural visit to San Miguel but the start of my love affair with Mexico. Fortunately the years to come would see many more adventures south of the border to San Miguel and beyond…