Despite the benign start to our winter this year, January brought a midweek nor'easter which dropped more than 14″ of powdery snow over the region.
I love a good dumping of snow and this year's blizzard did not disappoint: flakes fell furiously at a rate of 1-2″ per hour, the trees danced wildly as the strong surf roared in the distance.  Sheltered comfortably in my home and warmed by the wood-burning stove, I worked remotely as the winds whipped the snow and pounded the windows of my home office.
By afternoon the storm eased.  Before nightfall I grabbed my cross-country skis and glided down the driveway and to the Rachel Carson National Wildlife Refuge on Cutts Island.
I skied hard and fast, completing three loops to Brave Boat Harbor.  I enjoyed the crisp air, untracked trails, the woods draped in white, and the icy estuary ebbing slowly back to the sea.  As night set in, the light turned slowly beryl in the deserted forest as I headed towards the warmth of home.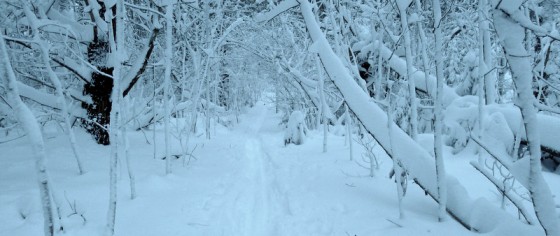 The Snow-Storm
Ralph Waldo Emerson

Announced by all the trumpets of the sky,
Arrives the snow, and, driving o'er the fields,
Seems nowhere to alight: the whited air
Hides hills and woods, the river and the heaven,
And veils the farmhouse at the garden's end.
The steed and traveler stopped, the courier's feet
Delayed, all friends shut out, the housemates sit
Around the radiant fireplace, enclosed
In a tumultuous privacy of storm.

Come see the north wind's masonry
Out of an unseen quarry evermore
Furnished with tile, the fierce artificer
Curves his white bastions with projected roof
Round every windward stake, or tree, or door.
Speeding, the myriad-handed, his wild work
So fanciful, so savage, nought cares he
For number or proportion. Mockingly,
On coop or kennel he hangs Parian wreaths;
A swan-like form invests the hidden thorn;
Fills up the farmer's lane from wall to wall,
Maugre the farmer's sighs; and, at the gate,
A tapering turret overtops the work.
And when his hours are numbered, and the world
Is all his own, retiring, as he were not,
Leaves, when the sun appears, astonished Art
To mimic in slow structure, stone by stone,
Built in an age, the mad wind's night-work,
The frolic architecture of the snow.