Sitting in my hotel in Mexico City, tired after a day of walking and sightseeing – alone – I decided to check out the CouchSurfing groups in Mexico City to see if I could meet up with some locals and travelers to socialize a bit.  I'm a fairly recent arrival to the CouchSurfing scene, and since joining about a year ago we have hosted a half-dozen CouchSurfers in our home in Kittery Point, Maine.  And all experiences were unique and wonderful – everyone we hosted was full of wanderlust and shared the "change the world, one couch at a time" spirit of the exceptional CouchSurfing community.
There seemed to be a fairly active group in Mexico City, so I responded to a message offering to meet up on Saturday for a boat ride in Xochimilco, an area at the end of the light rail south of the city center.  Famous for its trajineras (flat-bottomed gondolas) that wind through the canals, the last remaining vestige of ancient Tenotichlán, the Aztec capital built in the middle of a lake in this central Mexican basin cradled in a basin between snow-capped volcanoes.  On a previous trip to Mexico City I visited Xochimilco alone and chose not to go for a ride.  All the other boats were filled with merry groups celebrating birthdays, anniversaries, special events or simply a fun, relaxing afternoon with family and friends.  Feeling conspicuously alone at the time, I just wasn't in the mood to go solo on the gondolas.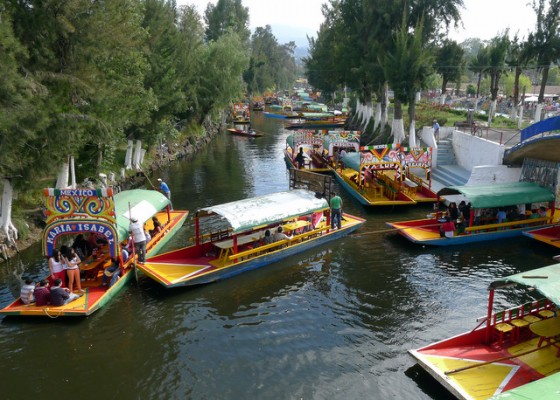 But here CouchSurfing in Mexico presented me with a perfect opportunity to cruise the canals with new friends!  So Saturday I met up with Mariana and Anny.  Mariana is a friendly, funky college student from Mexico City and Anny a visitor from Brazil who met Mariana through CouchSurfing.  After a few minutes of speaking portuñol (blended Portuguese and Spanish) we were fast friends and soon had joined up with a large group of international students in Mexico on a study program.  It was a great afternoon with a gregarious group from all over: Argentina, Colombia, Peru, Costa Rica, Chile and all parts of Mexico.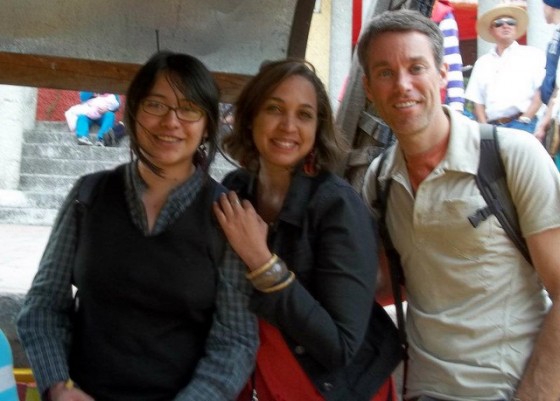 The canal boats were filled to capacity with dancing, drinking, and laughing cohorts.  We rented a boom box (for blasting music) which didn't work very well but no matter, there was music galore from the neighboring gondolas:  norteño music, rap, cumbia, reggae, rock and of course the many boats that had their own on-board mariachi band.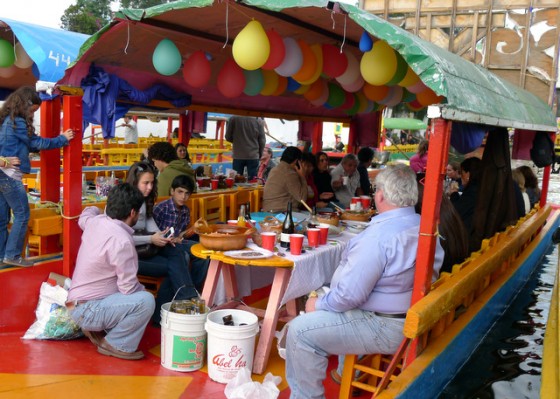 We passed islands with greenhouses (many Mexicans hopped on to pick up plants and flowers), homes, farms, even a strange island that had dolls and stuffed animals hanging ominously from trees.  Mariana explained one account of this strange tradition, something to do with a local shaman and evil spirits, but she wasn't too sure so we were not convinced.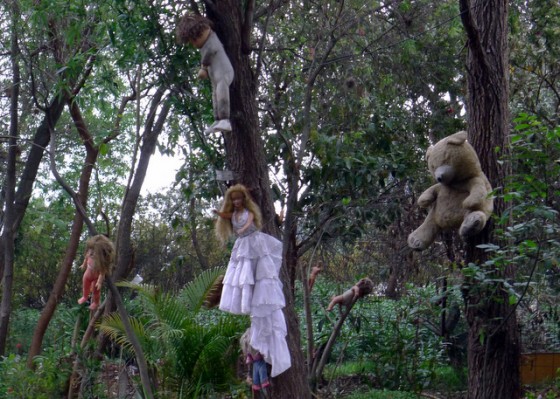 And of course there was the ever-present food and drink to be had: smaller gondolas with ice cold beverages, roasted corn-on-the-cob, even fully cooked made-to-order meals.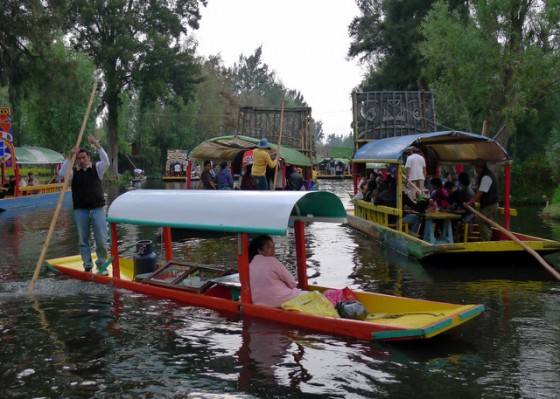 We were getting on wonderfully with our boat mates, singing, dancing, joking and much conversation – all the students made a point to talk to we three CouchSurfers and include us as their own.  Latinos are so especially delightful and welcoming!  We rafted up to other boats and passengers were exchanged, passing gondolas with families enjoying a sit-down meal with tablecloths, candles, bottles of wine, we even passed a boat of nuns all decked up in full Church regalia!  Everyone was smiling, having fun, enjoying the matchless afternoon.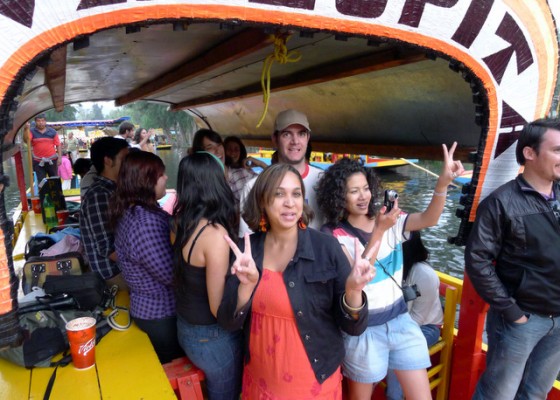 The wild water party soon was extinguished by a downpour as the sky darkened and lightning and thunder rolled past.  The temperature dropped as we crowded under the covered area of the boat, spirits mellowed.  Soon we were back at the embarcadero and saying farewell to our new friends.  Mariana, Anny and I bussed back to the light rail station and headed back to Mexico City.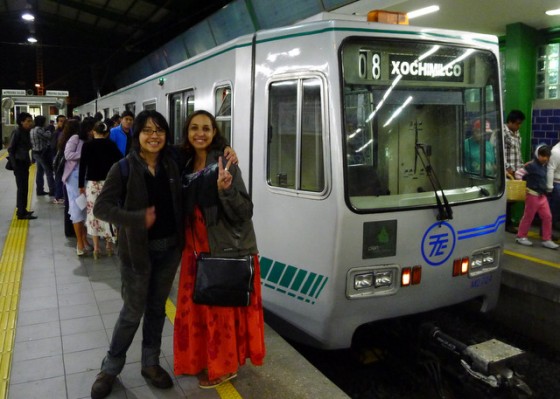 Mariana was generous enough to invite me to a party of some CouchSurfing friends that evening, and of course I was game!  We arrived at a friend's home to be welcomed by a warm group of 15 or so friends of a Turkish guy who was leaving for home after a year in the city.  Outgoing and super fun, his many friends made him a nice farewell meal, and I soon met many interesting, open people, mostly Mexicans living in the capital, both defeños and chilangos.  Interestingly (at least to the linguistically inclined), I learned that defeños (after "D.F." or "Distrito Federal"as the capital is known) are native residents, whereas chilangos are residents coming from other places in Mexico.  While chilango may be used in a slightly pejorative way (as in "bumpkin"), strictly speaking it is used to refer to the non-native urbanites.
I also met a handful of expats, a nice couple from France, a Spaniard, and a guy from Holland working on his advanced degree while interning at the Dutch embassy.  They were all delightful and friendly, after dinner we all sang songs form our respective countries (and regions) – drawing a blank, I was prompted to sing "New York, New York" and was grateful to be accompanied by the whole group.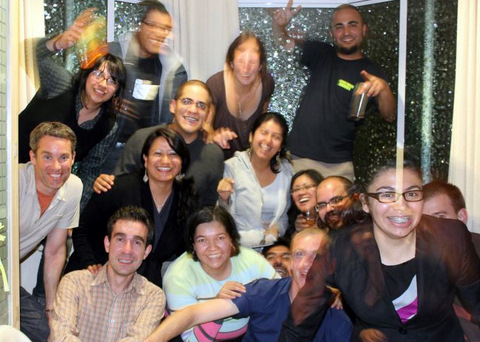 After dinner we piled into cars to head to another party.  Eight of us were crammed like sardines into a Ford Focus – perhaps a record – at one point we stopped alongside a police car at a red light and amazingly he didn't even blink.  One of the many ironies of Mexico City – while seemingly a police state with officers perched on virtually every street corner, they grant citizens tremendous latitude.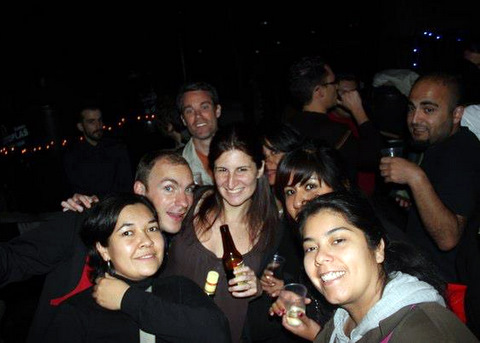 We arrived in the barrio Condesa, our bodies numb from the ride across town in a sardine can on wheels, and gratefully stretched our muscles dancing on the rooftop of an American expatriate's apartment, the friend Mariana met through CouchSurfing.  After a long time socializing, shaking our booties, sipping tequila, and laughing under the starry sky with the city heaving beneath us, we finally headed home.  I arrived at my hotel after 4 AM, exhausted but elated after so much fun with such stimulating, outgoing people.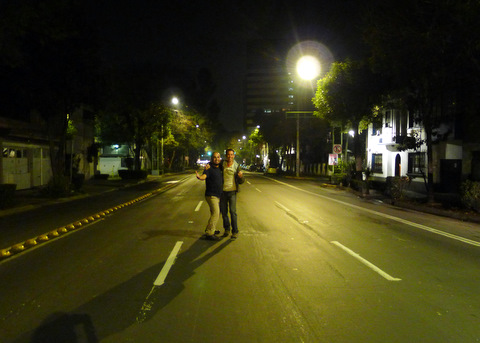 The next morning I woke up around 10 AM.  I had planned to meet up with another CouchSurfing group who were getting the free bicycles and riding along the grand Paseo de la Reforma thoroughfare (which is closed to all motor vehicles on Sundays).  I arrived too late for the post-cycle picnic in Chapultapec Park, which was a disappointment but I was still riding high from my most magnificent evening previously.
It was a breakthrough experience for me: the local CouchSurfing meet-ups and groups can be an ideal way to connect with locals (and other travelers) while on the road.  Earlier I knew in theory that this was possible, but having enjoyed such great success firsthand in Mexico City, it is now a priority of mine to continue cultivating the special world of CouchSurfing in my future travels.  I am genuinely grateful and delighted that Mexico City welcomed me with open arms.