I took to the welcoming city of Cochabamba almost immediately.  With friendly and unperturbed locals, an even-tempered climate (it is lower than La Paz, resting at a comfortable 2,825 m / 9,268 ft) and far less congestion with its tree-lined thoroughfares and ample gardens, I felt more at ease here.
Cochabamba, nicknamed the "Garden City" and the "City of Eternal Spring", decidedly lives up to its reputation.
After the first couple of days I was already in the swing of things of this culturally active and socially progressive city.
I attended the Iberian-American Theater Festival with avant-garde groups from Mexico, Spain, Brazil, Argentina, Colombia and Peru and witnessed the hunger strikes by the students at the Universidad Mayor de San Simon (UMSS) for fair wages for administration workers.
I hung out in plazas filled with live music, sustainable agriculture fairs, and vegetarian food festivals.  I explored the alternative Panel de la Plaza in the main Plaza 14 de Septiembre where newspaper articles from mainstream media are posted daily and interpreted with left-leaning commentary.
I found a healthy listing of upcoming dance performances, evening discussions with university professors, cultural festivals and outdoor events.
Yet Paul and I decided to be leisurely the first few days, simply walking the agreeable streets, exploring the colorful markets, and savoring the fine vegetarian food from the surrounding fertile Central Valley.  We explored the imposing Cristo de la Concordia perched atop Cerro San Pedro at the eastern end of the city.  With marvelous views of Cochabamba and the nearby mountains, we felt contented to be in such an alluring area.
In less than a week I finished my duties with Emprender, one of the Kiva microcredit institutions I'm assigned to.  It was time to move on.  We headed on to Santa Cruz but I would return to Cochabamba to live for the next six weeks, working with CIDRE, another Kiva microfinance partner.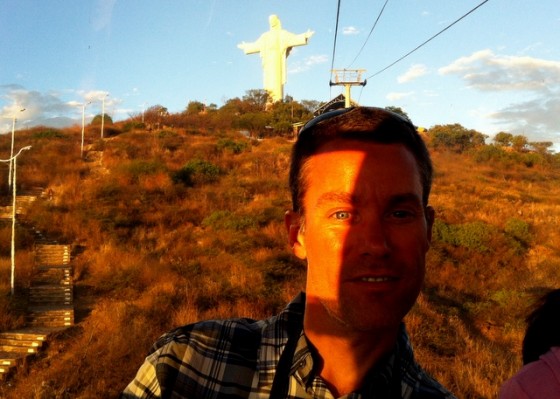 I can't think of a better place in Bolivia to call my home for the second-half of my Kiva Fellowship. I greatly look forward to soon being a cochabambino and not merely a traveler passing through.