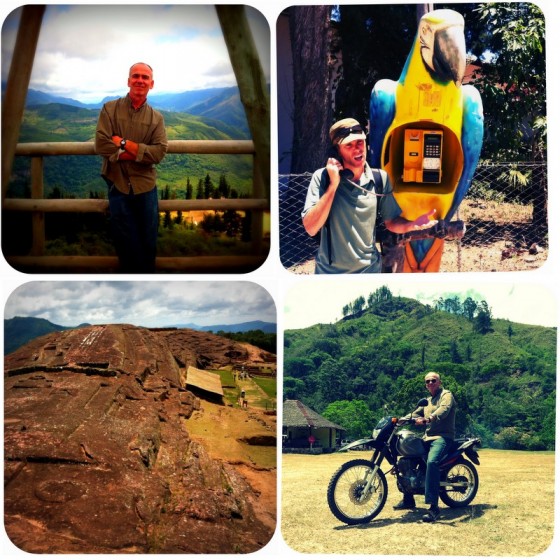 In Quechua the town means "The Height to Rest" – and indeed this is where Paul and I found a relaxing and picturesque place to kick back for a long weekend.   We were coming from steamy, tropical Santa Cruz in the eastern lowlands of Bolivia in search of cooler temperatures and an escape from the crowds.  It was our last weekend together in Bolivia before Paul had to return home.
Samaipata is something of an anomaly for Bolivia.  Blessed with a delightful subtropical climate and tucked in the easternmost folds of the Andes mountains, the area has attracted foreigners for centuries: first the Sephardic Jews expelled from peninsular Spain during the Inquisition, later some Italians and Croats, and finally a sizable number of expats (mainly artists and free-thinkers from Europe) starting in the 1970's when the road from Santa Cruz was paved.
Perhaps the most celebrated foreigner to come to the region was Ernesto "Che" Guevara in 1966 during his ill-fated attempt to bring Socialist revolution to South America.  He was killed almost a year later in the nearby village of La Higuera.
Today Samaipata remains a sleepy backwater with quiet colonial streets, a peaceful Plaza Principal filled in the evenings with locals on promenade and traveling hippies playing music and selling hand-made wares.  The resident expats are barely visible but present, often running businesses catering to tourists.  Samaipata hosts organic farms, Buddhist meditation retreats, ecological construction (my superadobe instructor from La Paz is based here), and a large number of reveling cruzeños from Santa Cruz on holiday weekends.
Samaipata is an especially agreeable place.  It reminded us of what San Miguel de Allende in Mexico may have been like decades ago.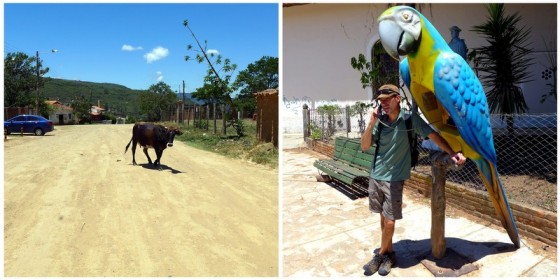 There are plenty of good restaurants in Samaipata, from the inspired pastas of Dutch-owned La Oveja Negra (The Black Sheep) to the Mexican flavors of the La Posada del Sol (also one of the excellent B&B's where we stayed), and the hip Bolivia-chic French tangs and generous cocktails at La Bohéme.
Our first morning, as we had breakfast in the central Café 1900, we were treated to a soldierly display in front of the building.  With parading troops, a marching band and flowing military banners, our breakfast was one like no other.
Yet our favorite eats in town were the pizzas made in a portable oven by an enterprising local and sold just off one of the plaza's corner.  Locals lined up as he cranked out tasty little pizzas, six at a time, which sold as soon as they were sliced.  We downed these delicacies in the leafy plaza as children and pets ran about.
Paul and I could not believe how delicious these were: with home-made crust, local quesillo cheese, sliced tomato, and sprinkled with olive oil and fresh herbs, these mini marvels were by far the most flavorful street food we ate in Bolivia.  We opted for his pies two nights in a row despite the many fine dining alternatives in town.
And the locals agreed; they all enthusiastically embrace the pizza guy with gusto and his "joint" is known all around town as the place for a dinner out.  I sure wish I knew his special recipe!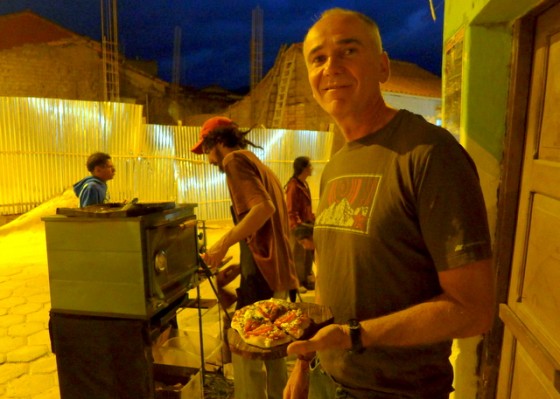 When we weren't eating, Paul and I were pretty lazy in Samaipata.  We had all kinds of opportunities to be active – hikes in the green mountains of Amboró National Park, trails through the cloud forest, walks to waterfalls and past green farmlands.  But we mostly enjoyed hanging out in town.  Since we stayed in comfortable hotels with nice views from balconies, we found little reason to leave.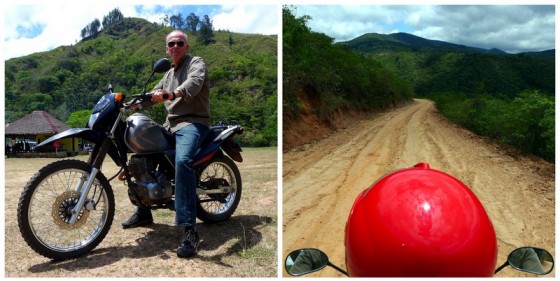 We did rent a motorcycle to see some of the area's highlights, including the intriguing El Fuerte (a UNESCO World Heritage Site) that is perched on a high ridge just outside of town.  It's a huge sandstone rock carved with abstract and figurative designs, including animals and geometric patterns.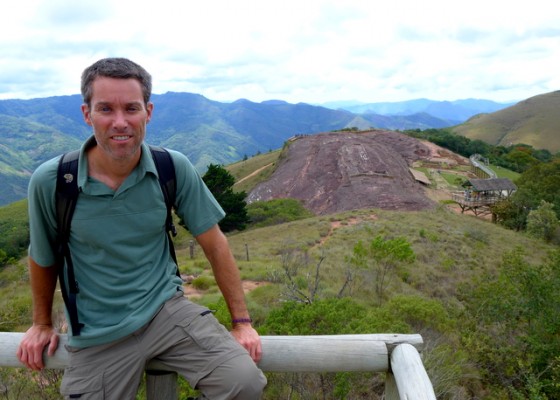 With some etchings dating back to 1000 BC, the site has long been a sacred place for a succession of pre-Colombian civilizations in the area.  The Inca established an outpost here on the easternmost edge of their empire before the Spanish arrived.  The European conquistadors converted it to a military stronghold and hence its name today: El Fuerte (The Fort).
Very little is known about the complex but it is clear that the site has been altered substantially over the years by different groups.  Given its unusual appearance, some pseudo-archeologists claim the giant sandstone slab was a landing strip for ancient astronauts.  Regardless, El Fuerte remains shrouded in mystery.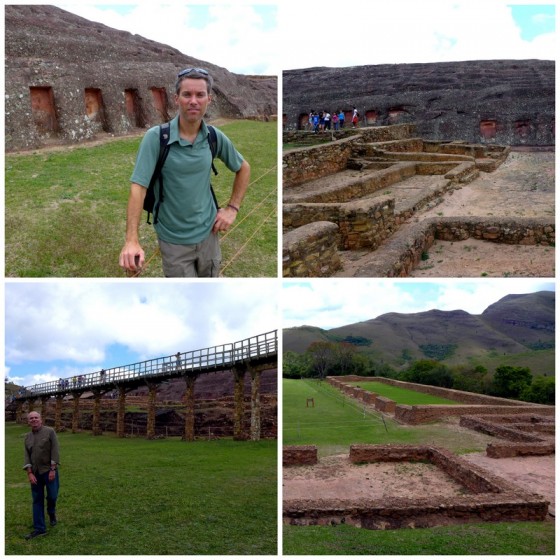 The motorcycle ride on Samaipata's back roads was refreshingly pleasant.  The emerald mountains shimmered in the sunshine and the light breeze kept the hot air at bay.
Here's a quick video of our descent from El Fuerte on the winding, red-dirt road back to the valley.  I was in good hands with Paul as the trusty driver!
Our next stop was Las Cuevas about 20 km south of town.  Here a series of waterfalls provide a watery oasis in the heart of beach-starved Bolivia.  Being a Sunday, the park was filled with picnicking locals and children playing in the cool pools beneath the main waterfall.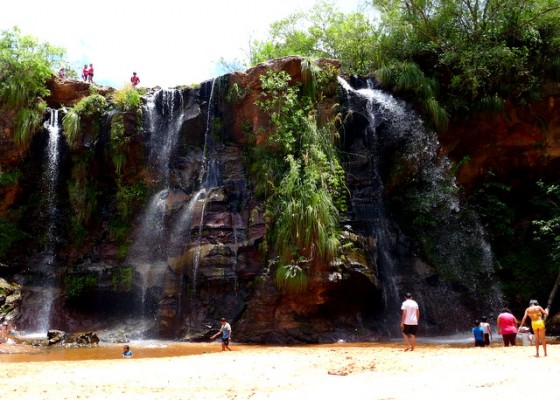 Paul and I took our chances and climbed to the rim for the view.  I certainly wouldn't want to go over the edge, especially since the shallow water was not very comforting this time of the year, being the end of the dry season.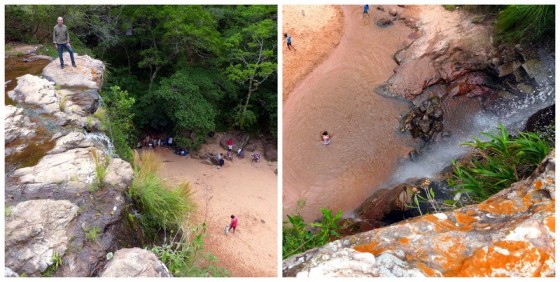 We headed back to Samaipata for a final night of mountain sunsets, fine food and cocktails, and a relaxing stroll through the main plaza.  Samaipata provided a fitting end to our October travels together.  Sadly the next day we would return to Santa Cruz for Paul's flight home.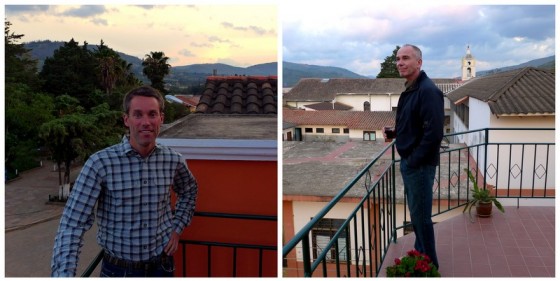 We said farewell to lovely Samaipata — this is definitely a place both of us would love to return to again for an extended stay!