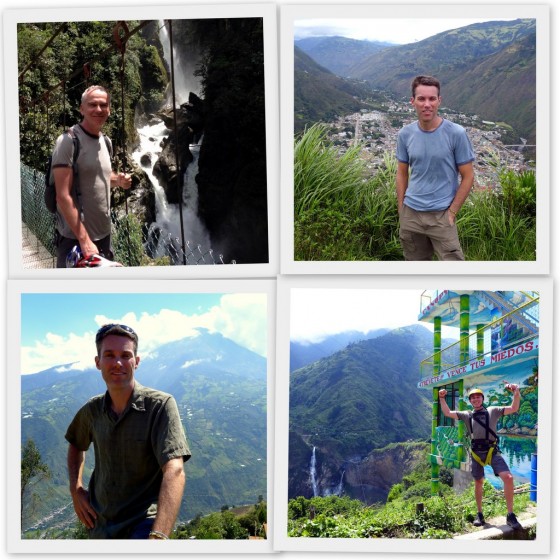 What fun we had in Baños! I was somehow expecting this given that pretty much everyone we met had told us so. "It's touristy," they all warned us, "but you'll barely notice it once you start doing stuff."
Normally when my expectations are high about a place I tend to be underwhelmed when I get there. But in the case of Baños, I can honestly say it was more pleasing than I anticipated.
Baños is touristy. So much so that there are literally hundreds of hotels and restaurants in the relatively small town of 10,000 residents. But this also means that competition among businesses is intense so the quality is high and the prices very favorable to the tourist.
Our hotel, for example, Hostel La Chimenea was a delight: sparkling clean and spacious rooms with private bathrooms and balconies, a pool and sauna, wireless internet, a rooftop terrace with views of the surrounding mountains and waterfalls, a great breakfast restaurant, and friendly laid-back management. All this for a mere $8.50 a person!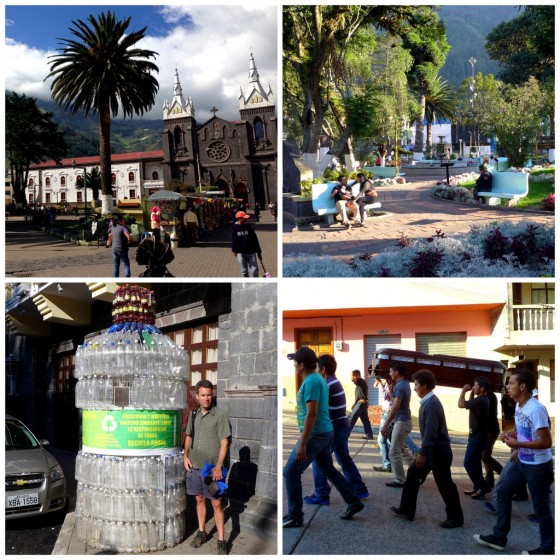 The real charm of Baños is not the town but the surrounding area. There are miles of excellent hiking trails with views of the active Tungurahua volcano which towers above the valley at 5,023 m (16,480 ft). There is mountain biking past scores of waterfalls, mostly down hill with frequent buses to whisk you (and your wheels) back effortlessly to Baños. You can whitewater raft, bungee jump, zipline, rappel down waterfalls and rent ATV's. And since the mountains descend rapidly to the eastern Amazon, you can even tour tropical indigenous areas and spot jungle wildlife.
After all this adventuring, you can relax in the numerous hot mineral springs in Baños (known officially as Baños de Agua Santa or "The Baths of Sacred Water"). Our favorite were the baths just two blocks from our hotel which sit beneath a striking 100 m waterfall. We went every day, sometimes during the mornings when we encountered quiet older Ecuadorians, and a couple times during the evening when it is packed with locals and travelers – the happening social scene in town.
Clearly there is much to love about Baños. Here are some of the many things we enjoyed during our visit:
Fantastic Food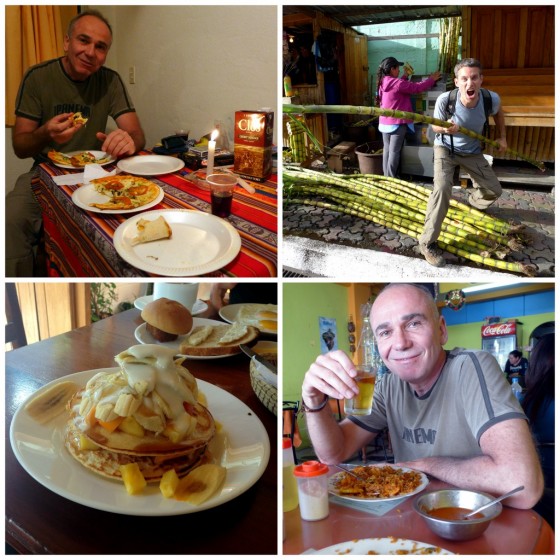 There is no shortage of fine dining choices in Baños: Italian pastas, French bistro cuisine, Mexican tacos, Spanish tapas, a German bakery, Asian stir-fries, heaping plates of seafood, parrillero grilled meats and vegetarian fare, and a clean and bustling market where cheap, wholesome $2 meals and fresh fruit juices can be found.
And there are sweet snacks, including melcocha (hand-stretched sugar cane taffy), fresh-baked cookies dipped in chocolate, and fresh-squeezed sugar cane juice on seemingly every corner.
We did not starve in Baños.
Hiking in the Volcano's Shadow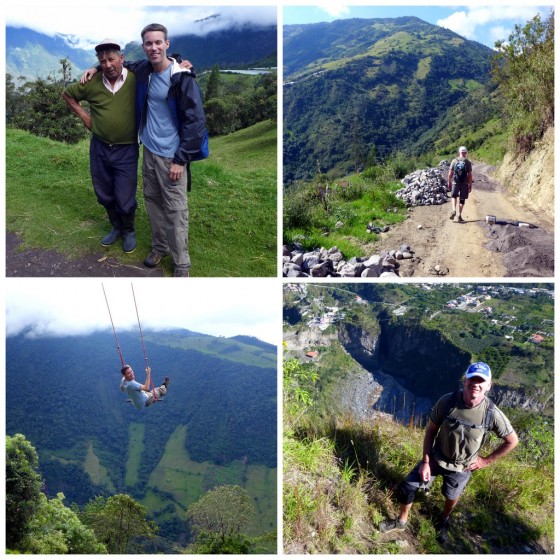 We went on a couple day hikes, taking care to go slowly on moderate walks since Paul's knee is in need of surgery. Since he was under "doctor's orders" not to do anything too strenuous, we stuck to relatively easy trails. To our surprise, the walking actually did wonders for Paul's knee. The nocturnal pain that previously disturbed his sleep vanished and he said his knee felt the best it had in months. All the walking must have strengthened the muscles around the injury.
Our first hike was up the mountain to the south of Baños. We enjoyed fine views of town from a couple of miradores and we passed pleasant highland fields of potatoes, beans and tamarillo. We eventually reached the Casa del árbol ("The Tree House") where a sociable park ranger keeps watch on the rumbling Tungurahua volcano (although he seemed much more interested in the pretty young Australian women visiting the site). Unfortunately the top of the volcano was engulfed in clouds, but we kept ourselves entertained on a rustic swing that jutted way out over the steep mountainside.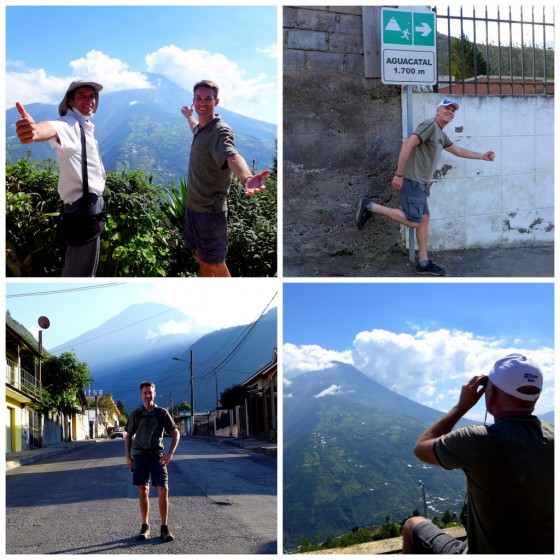 The ranger showed us pictures and videos of previous significant eruptions, one as recently as last April. Apparently this smoking monster puts on a show every three months or so, spewing fiery lava and ash to the great excitement of locals and visitors.
Fortunately Baños is protected by the Virgin Mary of the Holy Water who centuries ago appeared beneath a waterfall in town. Her job is to send the ash in the opposite direction of town and ensure that the lava is channeled down two gorges that flank Baños, away from residents. It's good to have a patron saint, especially when you live beneath an active volcano.
We did another awesome hike up the mountains across the Pastaza River canyon on whose dramatically eroded cliffs Baños sits. The day was much clearer so we had superb views of Tungurahua's canonical crest. We also spotted the snowy Mount Chimborazo in the distance, Ecuador's highest peak at 6,268 m (20,564 ft).
We stopped to visit the exceedingly friendly Rogelio who runs a small café directly across from the volcano. As we sipped a hot cup of Nescafe, he told us all sorts of stories about the volcano's frequent eruptions. Happy to be on the safe side of the valley, Paul and I descended back to Baños to complete our second day hike.
Biking and Ziplining Past Thundering Waterfalls
One day we rented mountain bikes and set off down the valley road in search of alpine sights and impressive waterfalls. Within minutes we found both – there are more than a dozen mighty cascades tucked among steep ravines in a short 20 km stretch outside Baños.
Every few kilometers we stopped our bicycles to enjoy the views and talk with locals, including an energetic group of students who were far more interested in practicing their cracked English ("Hello, my name is Tomato!") than marveling at the waterfalls.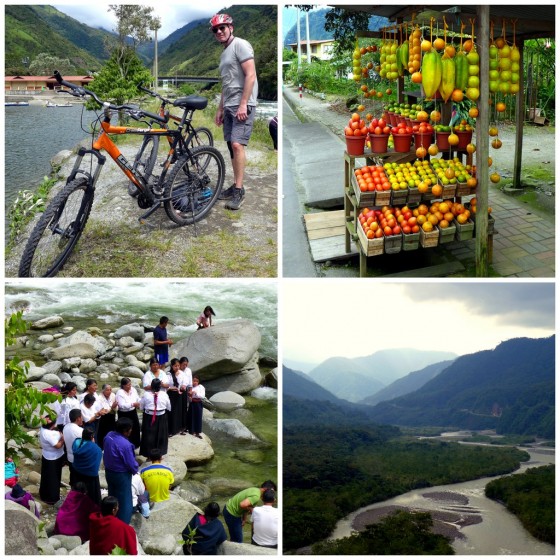 There was a lot to see along the way: small villages barely touched by the heavy tourism of Baños, scenic bicycle lanes that skirt the numerous tunnels of the main road, fruit stands and restaurants serving up grilled trout, even a joyful baptism at one of the river's tributaries with colorfully attired and singing women near the water's edge.
We even went for a zipline ride across the canyon which really got our hearts pounding (Paul won't admit this, but it took some coaxing to get him buckled in). It was a wild ride, definitely a thrilling way to appreciate the heights!
Here's a quick video of our soaring flight across the Pastaza River to the Agoyán falls, it's hard to see in the sped-up video but the only way to stop is to be caught by two diminutive Ecuadorians waiting at the other end – if they miss you crash at high speed into a cement pylon (fortunately this didn't happen to us).
Paul and I continued our  bike ride together and after 25 km or so we parted ways. He returned to Baños since he didn't want to strain his knee, and I continued another 40 km down the valley to Puyo, a gateway town to tropical Oriente province and the start of the Amazon basin.
It was grueling trip for me as the "downhill" ride actually included 15 km of tough uphill. But the sights were spectacular in the rapidly changing landscape as I descended some 900 meters (nearly 3000 ft) from the Andes to the Amazon in a mere 60 kilometers (37 miles). A ride of a lifetime!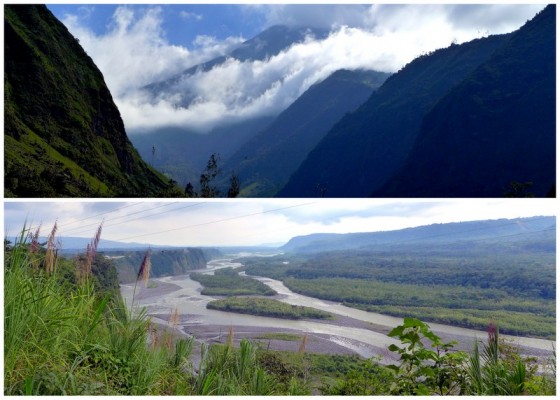 Paul and I loved everything about Baños so it was not unexpected that we stayed many days. It's great to be independent travelers with an overall itinerary but a stretchy schedule. We did not "plan" much with Baños. Each day we woke up, looked out the window and saw the sun shining – we then knew we'd be in Baños for another day.