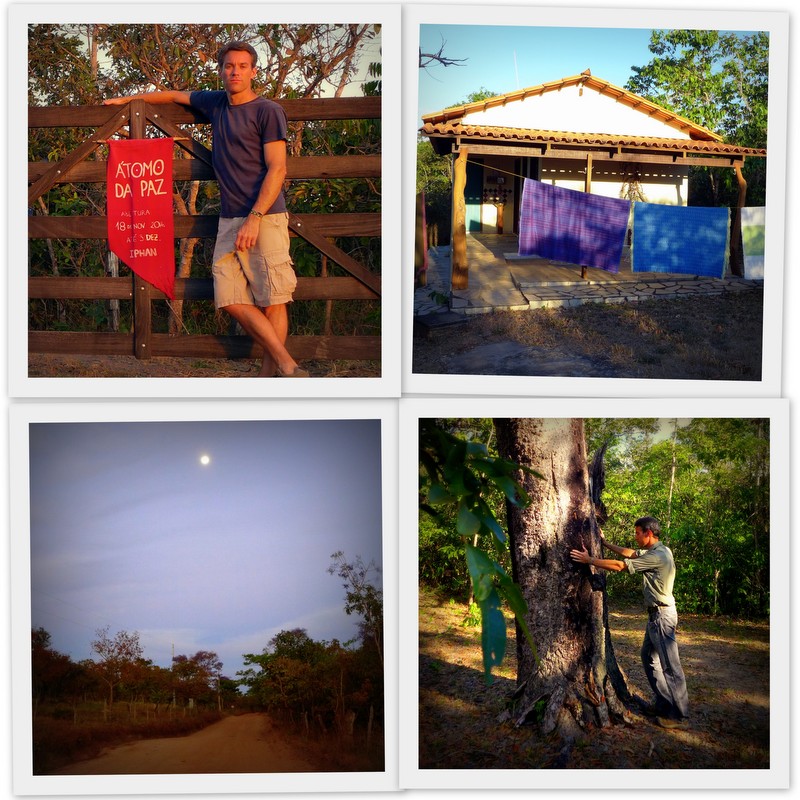 …continued from Part One
Friday, July 19
This morning Julia invited me to accompany the Chileans to a nearby cachoiera (waterfall). They were unable to get a taxi for the trip out so I was the chauffeur since Julia knows and trusts my driving abilities. It was a pretty spot with refreshing waters and an impressive cacsade. I chatted with the Chileans while enjoying the sunshine, I even was able to manage a short meditation beside a smaller waterfall which cooled me with its light spray.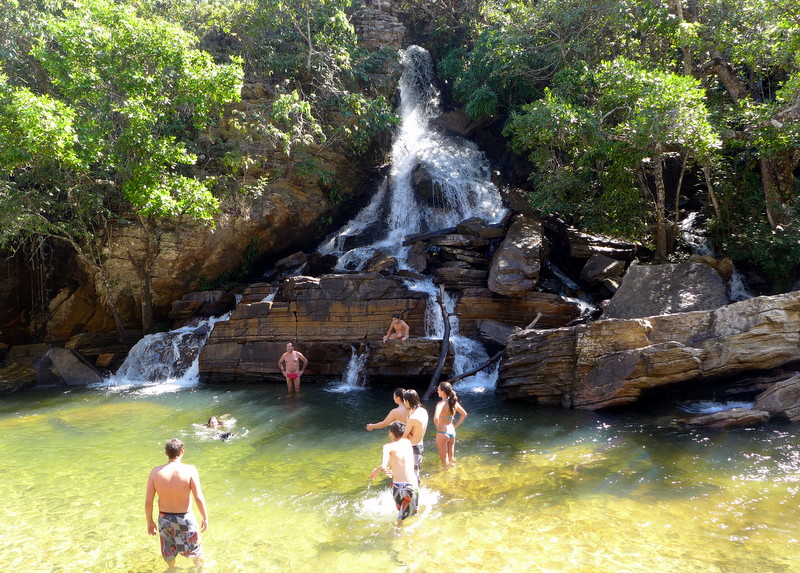 As for WWOOF work, today I repaired another splitting table so more glue and tiny nails. I continued clearing out irrigation canals and helped Julia by dropping off the Chileans in town and running some errands for her so she could concentrate on school work.
I did some laundry today, great to use a nice deep sink. As I churned the dirty laundry in the basin I spotted a nearby serene praying mantis (or rather a phasmatodea). Critters are everywhere: ants, geckos, frogs, spiders, moths, flies, mosquitoes, butterflies, bees and a host of other small insects. I've become an expert at shooing them from my room since there's almost always a new friend to greet me when entering. At first it was a bother but no longer – there's little here that will harm and they are just trying to get through each day like the rest of us.
I'm starting to get that restless feeling – it'll be time to move on in a few days. I was planning to spend a couple of weeks on a WWOOF farm but frankly there's little farm work. I've almost completed Julia's to-do list and she seems somewhat harried by all the guests (10 Chileans + me!) and her end-of-semester pressures at the university. So I'll talk to her tomorrow and let her know I plan to leave after the weekend, I doubt this will be an issue.
I fell asleep early tonight to the sweet songs of the curiango, a nocturnal bird that is common in these parts.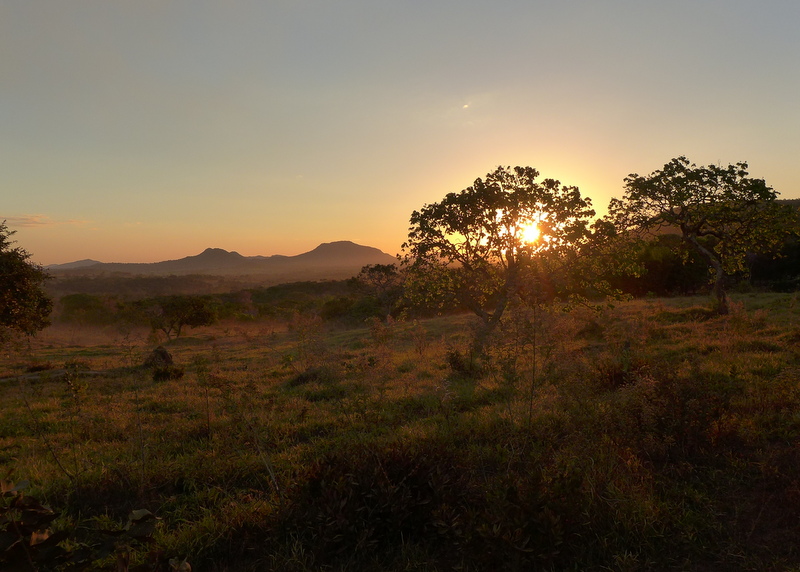 Saturday, July 20
No rest for the weary in WWOOFing! Even though it's the weekend it's still a work day. Today I spent hours hoeing a bone-dry garden and adding household compost to the soil. The result: a crunchy and dehydrated bed ready for planting that is sure to nourish some succulent veggies when the rains return.
I was amazed by how easy it is to use compost: Julia simply adds all the kitchen organic waste (including eggshells) to a pile out back. She adds fallen leaves from the scrub on her property, blends the two occasionally and in a couple months has a fine stash adubo to add to her garden. We've been composting our vegetable waste for years in Maine by simply tossing it in a heap in the backyard woods but then we just ignore it. No more! I've learned it's easy to work this into the garden soil in the springtime; I'll be sure to do this going forward.
Another delicious lunch from Julia: mustard greens, roasted sesame seed and tomato salad with olive oil/soy sauce dressing; stir-fried eggplant, tomato, onion and Swiss chard with brown rice; grilled zucchini and steamed manioc root. Afterwards I headed into town with my laptop to plan the final weeks of my travels in Brazil.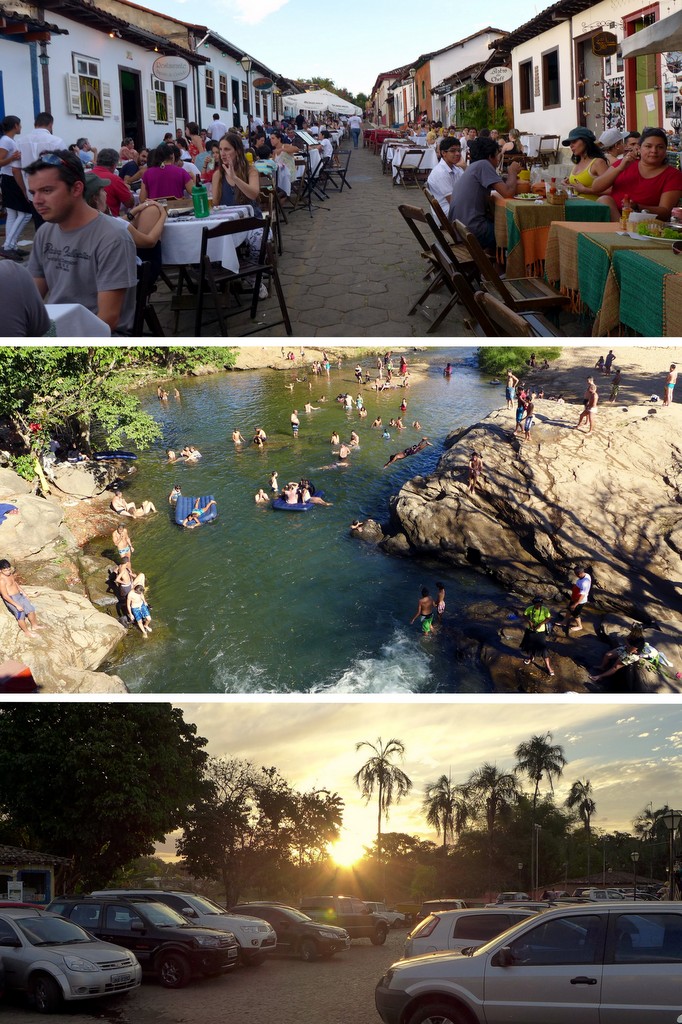 Pirenópolis was hopping! Cars and pedestrians everywhere, its cobbled streets filled with diners at open-air eateries, live music drifted from restaurants, couples sat sharing cold beers in the shady park and swimmers bathed in the Rio das Almas river that runs through town. A mighty change from mid-week when the streets were empty save for the few locals milling about.
I grabbed a sandwich from the corner lanchonete, the friendly diner that I've been frequenting all week. By now they know my veggie diet and and smile without me having to say "sem presunto" (i.e. "without ham"). It's nice to be a regular!
Sunday, July 21
Today the Chileans left for Brasília. They departed with hugs and kisses and the exchange of email/Facebook/Twitter info and promises to see each other again. Very sad to see them go, I enjoyed their company.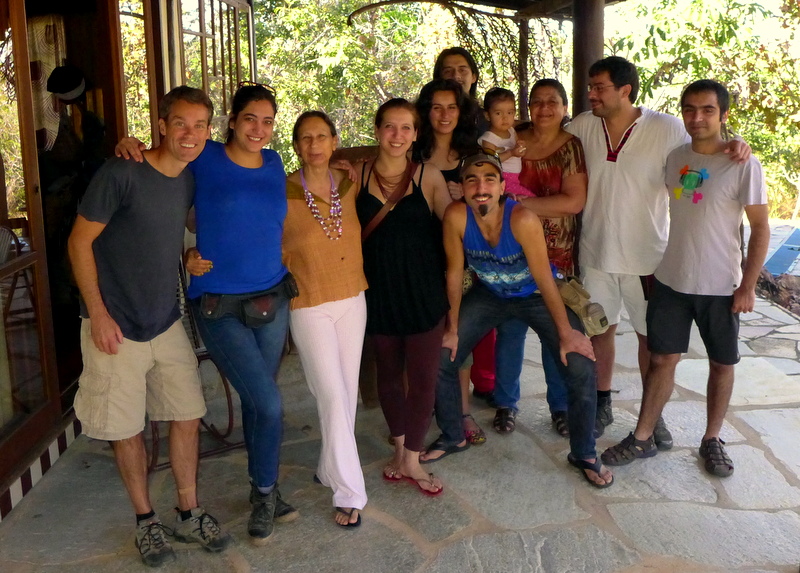 I helped Julia clean up the cottages: moving mattresses, hanging blankets in the sun, sweeping floors and laundering linens. Ten people create a big wake! I did another batch of my own laundry which was getting a bit grubby with all the dusty work. The clothes dried quickly in the sun and arid environment – within a couple hours everything was ready to be folded, even my jeans.
Julia, once again, prepared a delicious lunch: watermelon and strawberry juice, a salad of spring and mustard greens, big springs of parsley, a plump tomato, apple slices, toasted sesame seeds, topped with vinegar and a drizzle of coconut creme. She also served up a hearty manioc consomme and brown rice with beans, onion, eggplant and spinach. Delicious!
In the afternoon I prepped some kitchen shelves for painting. It took quite a while for Julia to locate sandpaper, the paint, decide on the color, etc. And in the end we didn't have a serviceable paintbrush despite Julia's efforts to convince me to use one of her thin artist brushes. I left for town to purchase one but none of the stores were open on Sunday.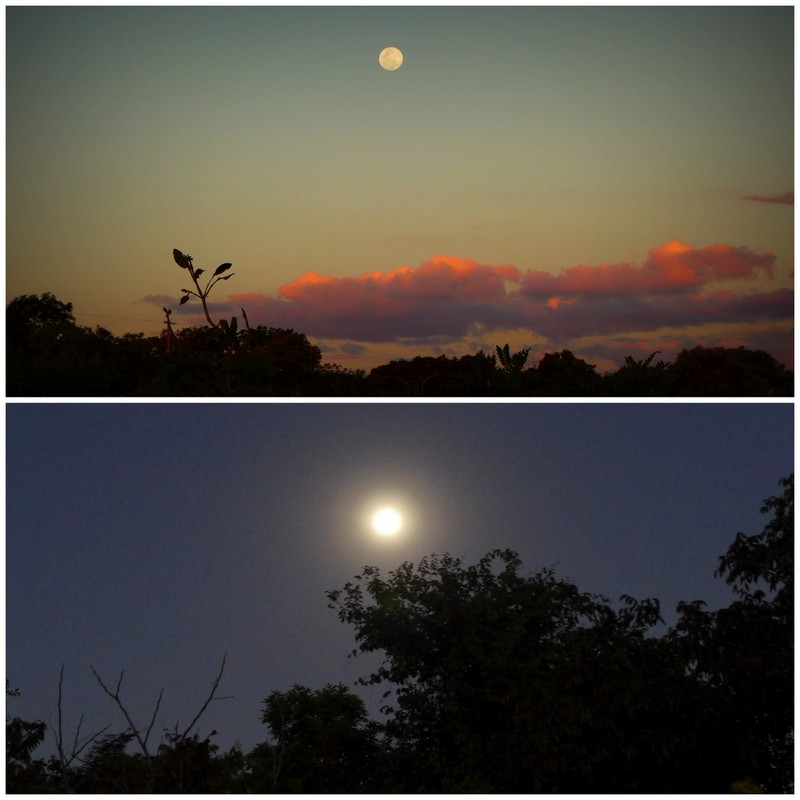 As I walked home I was treated to a remarkable sunset cast wide over the Pireneus valley (the Brazilian name for "Pyrenees"). The rising moon is just one day short of being full – tomorrow night the townsfolk embark on a 11 km pilgrimage to the Morro dos Pireneus to celebrate the July full moon, a recent tradition started by New Agers in the 1970's.
Monday, July 22
My last day at Chácara Canto Guardian! Lots to do: clean my suite, book an overnight bus to Cuiabá (16 hours, ugh!), bicycle to town to get money from the ATM, finish my laundry, paint the shelves in the guest cottage…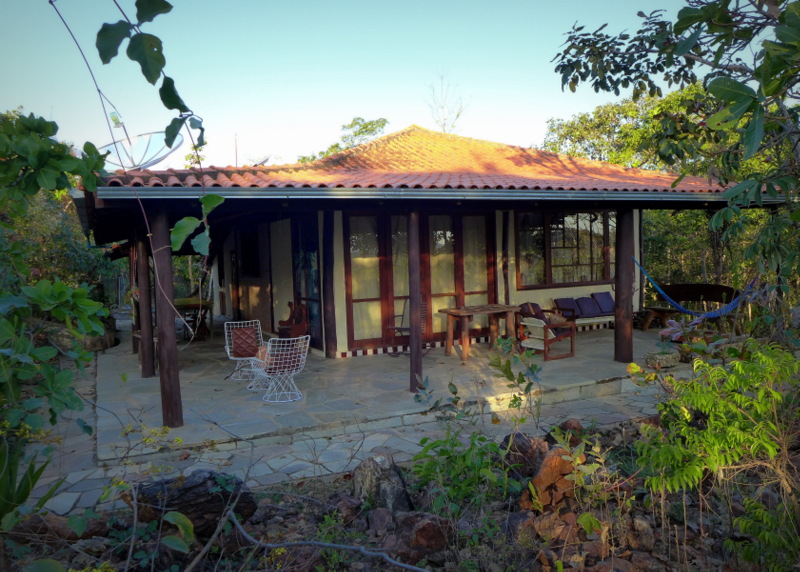 So pretty much from sunrise until late afternoon I was on the go, stopping only briefly for my last lunch with Julia. I took a walk around the property for a final view of the nature trails, the main house and cottages, the boisterous green papagaios (parrots) that feed in the cerrado brushwood outside my cottage and laughing siriemas by the river which woke me each day at dawn with their laugh-like ha-ha-ha bird calls.
In the afternoon I said farewell to the giant healing tree Julia named pai jatobá. I placed my hands on the warm bark to draw forth its energy.
This is a special place. I've found a home here in the past week. I will miss Julia's smile and laughter, the quiet and independence, the daily purpose of odd jobs and the diversity of living things around me. My week probably wasn't a "typical" WWOOFing experience in some ways but perfect nevertheless. I am fortunate to have landed in the warm and welcoming arms of Julia and Canto Guardian.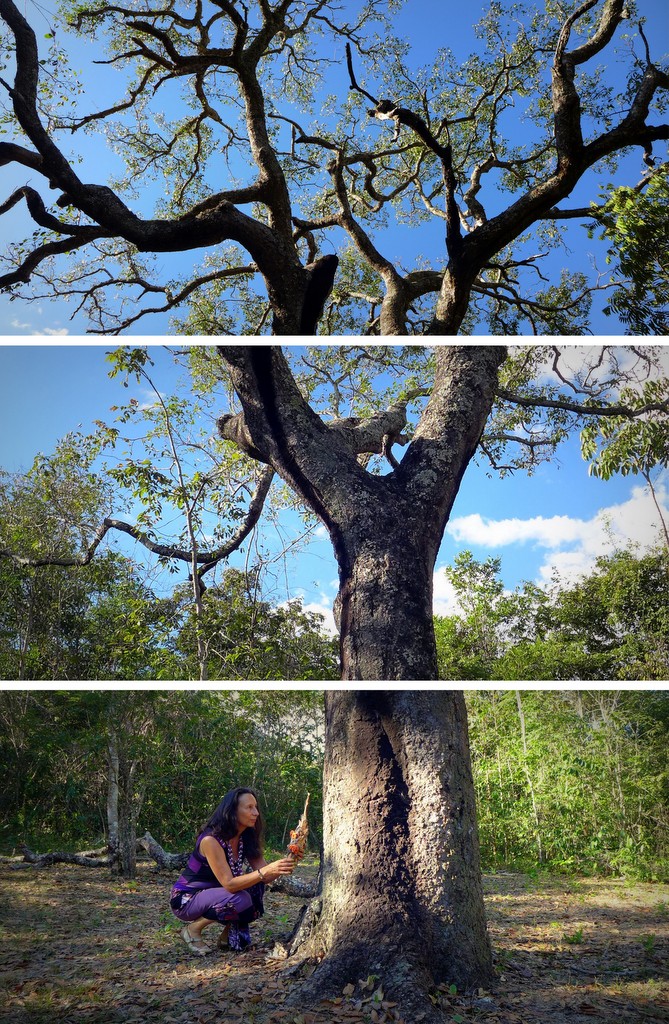 EPILOGUE: For years I've heard great things from fellow travelers about WWOOF International, such as "I went for two weeks and ended up staying six months". I had intended to stay longer at Canto Guardian but as I discovered I wasn't doing classic organic farming and felt two weeks of household maintenance work wasn't exactly what I was looking for. But everything else about my experience was wonderful.
I wholeheartedly recommend WWOOF as a rich way to travel: it's a terrific way to meet locals, become part of micro-community, do hands-on and meaningful work and help make longer-term travel affordable (I spent less than $50 USD during my eight days on the farm).
I offer the following advice to anyone interested in WWOOFing:
Be proactive and specific. Take time to read about the different WWOOF farms and make a list of those that most fit your interests. Some farms speak only local languages, some only provide tents for camping, some are actively religious, some have strict diets. Talk to other travelers to find recommended farms (unfortunately the WWOOF Brazil site doesn't have a way to review or leave references like other sites such as CouchSurfing).
Contact the farms several weeks in advance if possible. Ask hosts what your tasks and responsibilities are. Be direct about any questions or concerns you have – it is much better to answer these before you commit to a farm. Communication is very important – in selecting Chácara Canto Guardian I exchanged perhaps a dozen emails with Julia concerning everything from arrival dates, accommodation, diet, work expectations, and directions to the farm. Remember you are spending a lot of collaborative time together so the fit should be right – for you and the hosts.
Be patient and flexible. I contacted eight farms in the Brazilian states of Bahia and Goiás and only received two positive responses. Some no longer accept WWOOF volunteers, some require a longer-term commitment or specialized skills, and some simply don't currently have work due to holidays or growing cycles.
The "advertised" work on the WWOOF website can change. For example, one farm I contacted said they couldn't accept a volunteer at the moment but offered to give me a room in a hotel in exchange for helping with duties there during the busy July holiday. This wasn't what I was looking for so politely declined. Another host told me he wasn't going to be at the farm but I was welcome to stay there alone and unsupervised with vague responsibilities – a bit too unstructured for me. You'll never know how the farms will respond so be prepared for the unexpected!
Be open and respectful. Once on the farm, go with the flow. Ask about rules and expectations as soon as you arrive. Work schedules, food and dining hours, and tasks may shift daily. Weather, priorities, available helping hands all can change and will. I was careful to plan each day with Julia and she pretty much trusted me and left me to my tasks. I made some mistakes, sure, but told Julia right away. You are in a new environment and culture; you can't be expected to know how everything works on Day 1 and most hosts understand this.
While you are there to help and work, you are still a guest. Be sensitive to the hosts' personal space and respect boundaries. If you are unsure about something, ask and get clarification. While I wasn't asked to do anything dangerous or questionable, be firm if you don't feel comfortable with a particular task or arrangement and explain why. I'm sure most reasonable requests can be accommodated.
Most importantly, try and enjoy the work you do and learn new things. I asked Julia about the names of plants and animals, she graciously explained each one and pointed out special qualities and provided interesting anecdotes. I learned a lot about local weather, water issues in town, regional dishes and customs, Petrópolis' goings-on, etc.
WWOOFing is an ideal way to be a traveler and not a tourist, take full advantage of every moment and you will be rewarded in rich and unexpected ways!