My first trip to the United Kingdom countryside, a splendid introduction to the stunning scenery and pleasant village life in rural England. First stop was the Cotswolds near the Welsh border where Paul was born and still has family. Teeming with charming pubs, honey-colored cottages, and pastures aplenty, this area has thrived since Roman times on wool production. Paul was a great guide and I saw Chantilly cottage in Cheltenham where he first entered the world, his Naughton Park childhood school, and of course the many favorite pubs he caroused during his Air Force days.
We then headed north to the Lake District which surely won our hearts. Gifted with fine weather, we rambled each day through the fells and spent our nights in cozy pubs and B&B's. It was here we "discovered" the Long Distance Footpaths found in all parts of the UK; we vowed to return with boots, rucksacks, and Ordinance Survey maps in hand for a deeper dive into this wondrous land.
From my journal dated Sept 20, 1997:
I am sitting in perhaps the prettiest place on earth. The tiny village of Hartsop in the northeastern Lakes district. A wonderful stone cottage with a spectacular view of the mountains, lakes in the distance. This is Fellgate Farm, a delicious setting — centuries-old homes and fresh, grassy farms spreading up the valley, and not a single tourist shop. It is brilliantly unspoiled.

Today's hike was one of the best in my life. We climbed to High Street, curious name for a rugged mountain path but indeed it was a Roman road a long time ago which remains clearly inscribed today, the alta via. The hike up through a lush and desolate valley, cut by a noisy brook with green pastures spanning the center. Up it rose, higher with water dripping from the saturated earth (it rained buckets for two days before we arrived). We emerged at a second, higher pasture even more remote and solitary.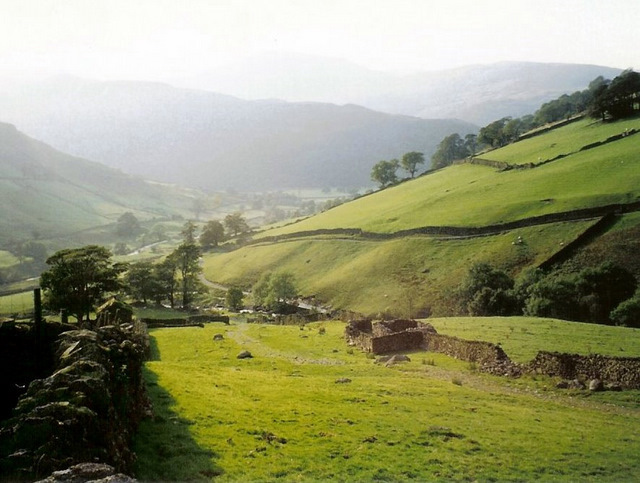 After a steep but not very technical climb we arrived at a windy ridge and continued upwards to marvelous views of both valleys, the eastern one now in view. At the top we stopped for lunch — home-baked bread, local cheese, apples, chocolate McVities digestives (a tasty discovery for me!), and of course a tall can of stout to replenish the burned carbohydrates.

Ever joking around, Paul tried to grab my rear as we sat down on a high crag but I jumped (of course) and we both fell backwards and he ended up with a minor cut on his hand. We laughed, it seems he always gets injured with his shenanigans: the first time I met him he fell off his mountain bike trying to swat Russ' behind, I thought he was goofy then and he hasn't changed!

Anyway, the day was a visual feast — bright sun everywhere with a slight cloud cover to dim the intensity but highlight the rich green and golden valleys below us, always a clear view. That's one thing striking about the mountains here — they are not very high but rough at the tops with rolling, thicket-covered hills tucked in between. Everything is exposed, the landscape mostly lacking forests which makes for unending dramatic vistas. Lots of walkers today but not crowded; the English are exceedingly charming — smiles and friendly hiya's when our paths cross.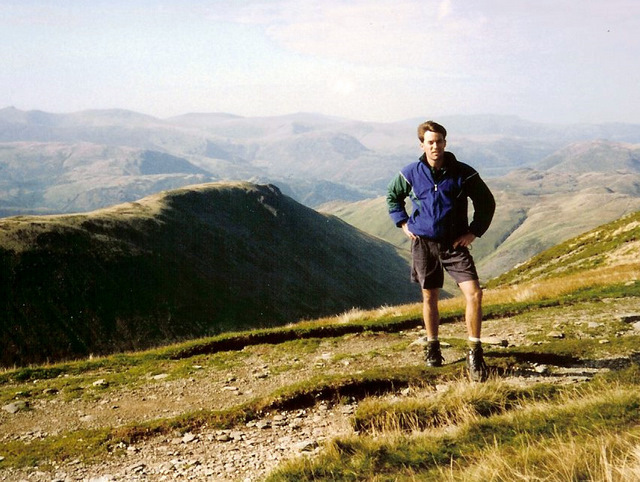 The walk continued along the ridge on the Roman road, an impressive feat of engineering. Still in generally good condition, it made for trouble-free "hands-in-pocket" rambling, we followed its length taking in the fine views of the lakes, valleys and villages dotted far below.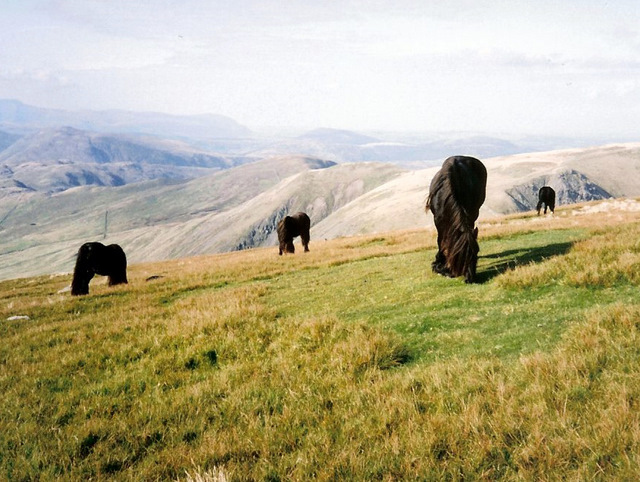 We came upon a half-dozen graceful horses, wild it seems, grazing peacefully alongside the alta via, exotically jet black with long manes and hair at their hooves, giving them a flare-legged look. We remarked how elegant they were with flowing hair blowing in the breeze. Apparently they are a rare local breed called "Fells Horse" (every promontory here is called a fell, a Nordic Viking word for hill).
The descent was gradual and easy with a new sight at every turn. My mind wandered as easily as my eyes with thoughts of the ancient road and travel during Roman times across the high Lakeland pass from one garrison to another — direct but probably often cold and dreary in the predominantly wet climate, this last, lonely outpost of the Empire bordering wild Caledonia, the frontier. I envisioned the local people crossing this ridge, who for centuries used the road and likely had little idea how it was built, why or by whom. I thought of us today — walkers drawing inspiration from the heights, mountain bikers seeking challenge in the lofty terrain, aged ramblers breathing the fresh air, horses and sheep — a constant flow of many creatures with many purposes.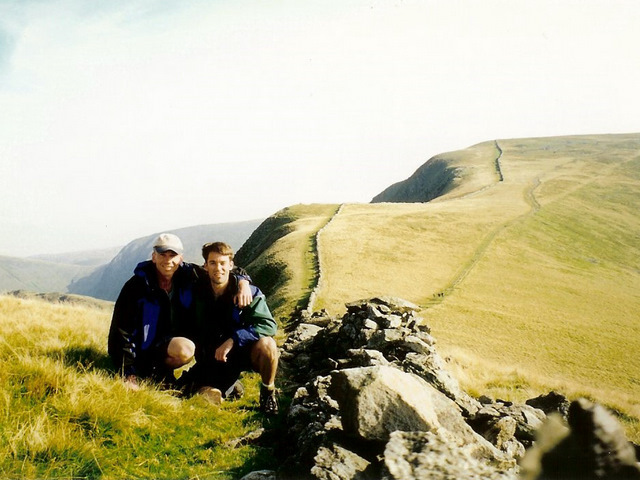 It was an awesome day on High Street. I feel so alive up above the world and so grateful to have health, motivation and now companionship to share it with. I am truly blessed.