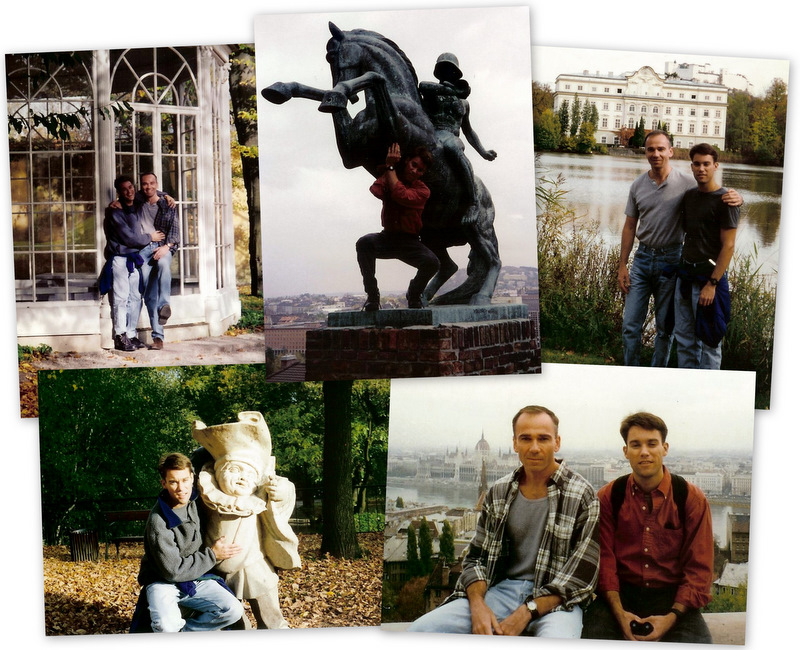 This was my first trip with Paul. We happened to have the same vacation time, he was headed to Norway and I to Rome but there were complications. So at the last minute we decided to vacation together and quickly planned a whirlwind tour of Munich, Salzburg, Vienna, Budapest and Prague — in 10 days!
To our amazement it all came together and on October 13 our adventure began: we laughed, played, drank and sang our way all through these incredible cities. Hungary and the Czech Republic were breaking out of their Soviet shell with vigor; those were trying yet exciting times for the locals we met. Prague was especially beautiful and vibrant, the Velvet Revolution still palpable and with capitalism plunging forward. Budapest was struggling more; we encountered a largely listless populace resigned to a wildly fluctuating prices, crumbling buildings and rusty Soviet public transport.
In Prague we happened to lunch with playwright and then-1st President of the Czech Republic Václav Havel. A man of the people, he preferred to eat in local pubs and so by coincidence we all chose the same locale that day. He was courteous and lighthearted, chatting with other diners in Czech and with us in English and he departed wishing us a pleasant trip. A surreal experience!
This trip is significant in another way: October 13 marks our anniversary. I consider it the genesis of our lives together as more than just pals. Why this trip? Previously I was protective of my travel time and preferred to journey solo. But after 10 days of marvelous fun together I discovered that Paul is an awfully good companion. I was sold.