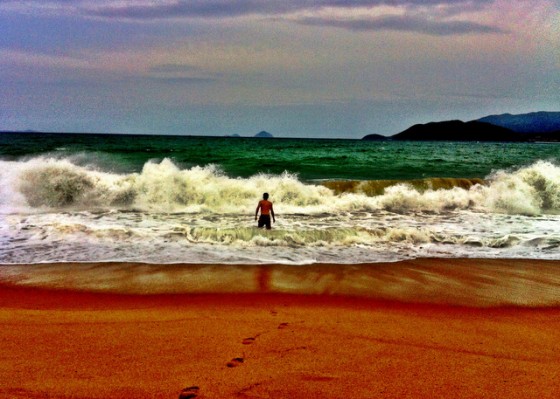 So, we've been in Vietnam for just over a week and what an incredible journey this has been so far.  But before I start posting the typical here's what I did in this-or-that city, I'll begin with a simple picture of Vietnam from yesterday evening:
Booming waves crash against the golden sand as I run barefoot and slowly along Nha Trang beach on the South China Sea.  I am getting some exercise to try and put my cough and congestion to bed after a long cold that has dogged me almost since I arrived in Asia.  What begins as a simple mission to stretch my lungs soon turns into a contemplative encounter with the lovely Vietnamese people on a 20-minute stretch of sand…
I pass a young father with his daughter at the end of a wooden pier, holding hands.  She is wearing her primary school uniform and smiling towards the sea, her communist red bandana and silken black hair blowing in the strong ocean breeze.
Nearby a group of young friends playing soccer on the beach, the sand flying wildly as they dig and dive their heels into the grit.  The football strays away toward me; I am greeted with a friendly wave as I pass the ball back to them.
I jog past a parking area filled with Vietnamese tour buses. They sightseers congregate on the beach, a cluster of men crouching as they enjoy a cigarette, cadres of parents calmly urging their cautious toddlers as they inch toward the waves, and a group of more intrepid Vietnamese swimming – some fully clothed – dipping into the sea, soaked and tickled by the salty spray and cooling water.
I see a family huddled on a tarp eating a meal of fresh-steamed lobster, crab, mussels and clams, chatting idly as they enjoy the water's bounty just a few steps from the creeping sea foam on the sand, grinning warmly to me as I enthusiastically inspect their handsome and fragrant meal.
Next I spot a couple teenagers fixing a bicycle, working together patiently as they hand each other tools and discuss the problem.
At the next pier I spy a newlywed couple posing for photographs with the commanding Hon Tre Island in the distance.  It is an intimate moment, just the two of them and a photographer, rare for a people who celebrate in large groups.  I wave my congratulations; they smile and wave back with her wedding gown billowing in the wind.
I run past a group of a half dozen middle aged women assembling for a photograph against the setting sun.  I greet them with a smile as I pass and they gesture to have me pose with them, giggling as I politely decline.
I see three men bathing in the waters, one missing the lower part of his left arm.  This startles me.
I quickly try to assess his age.  He seems in his early 60's.  Immediately I suspect a veteran of the Vietnam War (or the "American War" as it is known here).  Was he wounded in battle, did he fight alongside US soldiers or against them with the Viet Cong?  Or was he injured after the War by one of the many land mines that remain lost in this land, threatening lives and limbs to this day?  I suppose he could have been injured in a totally unrelated accident, a motorbike crash perhaps, or he was simply born that way.  But in an instant his missing limb and age conjures up the War.
Just 100 meters from where I am on the beach, across the boulevard teeming with beeping motorbikes stands a defunct U.S. Air Force base.  A generation ago cargo planes and bombers landed here, heading to war.  The weedy air strip now is a lengthy, discernible scar in this burgeoning tourist city.
These reminders are everywhere.  They bring me back to the War, of which I knew so little before visiting this country.  Back in the 1980's, my American History class ran out of time so we never studied it.  Just a short decade before I entered high school the U.S. involvement in Vietnam ended — it was still fresh on the minds of many Americans.  At the time I knew only of the broad historical outlines, yet I am keenly aware of the protest and pain that affected my family during those years.  The War is a scourge that haunts both our nations. On the surface those lost years are buried but visible scars remain.  Now I find a Vietnam that looks forward, not back.  Yet I still feel the shadow of the War everywhere.
The man missing a limb laughs as he is knocked down by a wave, his friends splashing him as he attempts to stand up.  The War is not on his mind at this moment, he is playing in the cool waters and being tackled by the crashing waves.  This is a moment of peace, the scene one of sublime beauty of the local people with smiles and friendly waves, the cool evening air yellowed by the setting sun and mellowed by the steady rhythm of the pounding surf.
My lungs fill with the wind off the ocean, my eyes delight in smiling faces everywhere, and I absorb the calm of the space around me.
Welcome to beautiful, complex Vietnam.  Here I find moments of brightness and shadows.