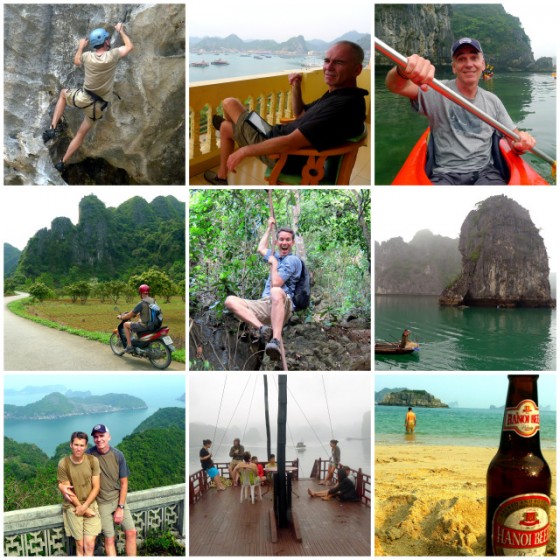 A bit weary of the cramped chaos of Hanoi, a bustling yet very absorbing city, we were eager to strike again for the coast, this time towards Ha Long Bay.  Famed for its remarkable limestone karsts generously dotting the aquamarine waters of the Gulf of Tonkin, this area of exceptional beauty was recently named one of the new "Natural Wonders of the World" and deservedly so.  95% of tourists opt for one of the 2- or 3-day cruises in the many wooden junk boats that ply the bay, but from the descriptions from our guidebook and after the advice of fellow travelers who had lukewarm experiences, we decided to skip the all-in-one tour and instead choose to DIY.  This would give us maximum flexibility while avoiding the groups, regimented schedules and quasi-"cultural" trappings of a package tour.
Cat Ba Island seemed the logical place to start.  Long the domain of backpackers, this largely unpopulated island is just south of Ha Long Bay and boasts its own La Ha Bay, equally majestic but far less visited than its well-known sister.  Additionally the sleepy seaside town of Cat Ba was an ideal place to kick back between the many outdoor offerings in the area.
Within minutes of arriving in Cat Ba town we were sitting on our private 7th floor balcony overlooking the fishing boats, floating restaurants and distant limestone islands in the bay.  We seemed to be the only guests in the hotel, a friendly family-run joint.  The room was only $15 for an extremely comfortable and private room with the most impressive sea views I've ever had for such a low price.
There's not a lot going on in town nor is it exceptional with just a string of generic hotels along the main oceanfront boulevard, which is empty of vehicles except the occasional bus and the ever-present scooters.  And it hosts a similar string of identical and uninspiring tourist restaurants with a couple of standouts, which we frequented during our stay.
That baffled us:  listless restaurant after restaurant with an identical menu with page after page of choices (never a good sign) and no customers.  Then a break in the clouds: a single lively restaurant with a limited and interesting menu, tasteful decor, and always full of tourist and local diners.  One would think that night after night of few (if any) customers, the empty restaurant proprietors would take a cue from the successful ones and make the necessary and relatively easy upgrades to attract more customers.  Certainly an entrepreneurial type could make a living here advising local businesses on how to attract tourists — and their dollars.  That is not to say we don't enjoy the local hangouts and count the sidewalk stalls among the highlights of our dining experiences, but as Westerners every so often we do enjoy some of the more familiar comforts of a traveler-friendly place.  But your drab, generic tourist restaurant — no thank you.
For many years a sleepy town with a steady trickle of backpackers and independent thrill-seekers, Cat Ba is just on the verge of big changes.  Shining new resorts are springing up in choice locations; we awoke each morning to hammers and workers' voices, the cutting and welding of rebar, and the whirr of cement mixers.  Large tracts of land outside of town are being cleared, and billboards display plans for golf courses, condos and luxury hotels.
For the moment, at least, Paul and I were able to enjoy the relative tranquility of the island.  After a few days of travel and changing hotels frequently, it was a treat to remain in one hotel for 4 nights, while occupying our days with exciting trips around the island and the bay, which I've summarized below with photos.
Beautiful Ha Long and Lan Ha Bays
A UNESCO World Heritage Site, Ha Long Bay is a striking collection of 2,000 limestone islets (or karsts) of various sizes and shapes.  Normally most visitors either day-trip from the tourist-crowded Ha Long City or opt for an overnight aboard one of the wooden junk boats that.  To avoid the tourist beat, we visited the less-frequented Lan Ha Bay near Cat Bat town as part of a day climbing/kayaking excursion.  We also took the longer ride back to mainland Vietnam via Ha Long Bay so we could at least see the more well-known bay.
This area sees a lot of rain (except for a short dry period in October and November which enjoys crystal blue skies) and we were mostly blessed with fair weather on the island, but the bays were shrouded in mist for our two trips, which turned out to be exquisitely atmospheric.  These boat rides were great: we were passengers on small wooden boats with fellow backpackers, enjoying beers and conversation as we passed through the ethereal rock monuments and lonely waters — one most memorable moments of our trip!
Rock Climbing the karsts
It had not crossed my mind to rock climb on Cat Ba but there was a trip leaving the next day through Slo Pony Adventures (big thumbs up!) which included a half-day of introductory rock climbing on one of the limestone karsts, and a half-day kayak through a quiet part of Ha Long bay.  I had never rocked climbed before other than a very rudimentary climb as part of a quick Outward Bound exercise during my college days.  But after seeing pictures at the Slo Pony office of the rough limestone surfaces and the extreme heights and verticality of the Lan Ha karsts, I was sold.
After a quick lesson on climbing technique and the gear, I was soon rising above the sand and into the soaring cliffs.  My first climb was actually one of the more difficult climbs but I completed it fairly easily after an initial moment of panic halfway up — fortunately I remembered to breathe, take time to think, and to use my legs (not my arms) for the heavy lifting.  Thus my morning was saved.
Actually my biggest concern was the descent.  It is a strange feeling to be freely dangling by a rope 70 feet above a coral beach.  And even stranger to lean way back, legs perpendicular to the cliff as you walk backwards and back down.  But in reality this was quite enjoyable, the "sit back and relax" time after the exerting climb.
I was lucky to meet Polly and Michael, long-term travelers and my climbing cohorts for the day.  Michael has done lots of climbing in the past and offered plenty of tips and encouragement, even prompted me through an especially challenging climb that featured an ominous overhang which is especially tricky (and fearsome!).  I didn't make it past the overhang but went pretty far, for my first day I was thrilled and motivated!
It was a fantastic day.  I found a new passion (and capacity) for climbing, which in some ways is a natural extension of my physical capabilities — I have a good sense of balance, no real fear of heights, and as a child I was called a monkey for my oft-practiced habit of scampering up trees.  Most importantly to me, I learned that climbing is a "thinking" sport — while tremendously physical, it requires considerable calculation.  Each climb is a problem to solve, and every hand placement and step is piece of the puzzle.  I absolutely loved it.
Hungry for more, I will seek out more climbing opportunities in my travels to come, especially Laos. Thanks to Michel for the recommendations for other climbing spots, I expect to post new adventures in the weeks to come!
Kayaking in Lan Ha Bay
We also spent an afternoon with other travelers paddling kayaks through the tranquil waters and marveling at the magnificent karsts in Lan Ha bay.  We ducked underneath hollowed out "bridges", gazed in awe as we paddled beside the towering cliffs with sheer rock faces rising directly above us, dug our hands in the tangled webs of seaweed, admired the coral reefs, fisherman laying traps, spotted schools of jumping fish that hopped on the surface of the water, entered quiet coves where monkeys feed, beached on sandy stretches and smelled the sweet fragrances of the blooming trees rooted precariously on the craggy rock.
Our motley crew of multinationals from the UK, Puerto Rico, Italy, Korea, France (and obviously two from the USA) was a happy bunch, chatting and joking the entire time.  The mood was decidedly relaxed, thanks in large part to our aloof and bohemian Vietnamese guide Chan.  And the scenery was too beautiful to believe.  Every other word exchanged between us was "wow" or "amazing".  A wowzer day indeed.
Hiking in Cat Ba National Park
Paul and I climbed the relatively short but worthwhile trek to a lookout tower in the Cat Ba National Park, smack dab in the center of the island.  We were told it was a 2 hour hike, but a mere 25 minutes into the buzzing and thickly green tropical forest we had reached the peak, admiring stunning 360° views of the karsts and forest beneath us.
The park is home of the golden-headed langur, a leaf-eating monkey and officially the most endangered primate on earth (only 60-70 remain) — I was not expecting to see this elusive animal nor did I in our short trek, although I did see plenty of butterflies and buggy creatures and heard lots of bellowing birds, not to mention thickly growing green things everywhere.
We were cautioned by a local that the tower is a bit old so we should not ascend with more than 3 people.  But when we got there the tower was closed with a "danger" sign.  But we wanted an unadulterated view above the canopy so decided to climb anyway.  We made it halfway up the rusting metal structure, stopping when the wooden slats for steps displayed ominous signs of rotting.
The views of the sweeping jungle and emerald peaks were gorgeous — "just as beautiful as the landscape of Machu Picchu" said Paul.  Perhaps, but really it didn't matter to me what was more beautiful; this was a scene of rare splendor appreciated best atop a crumbling, teetering tower somewhere in Vietnam.
Cat Ba Town
Cat Bat town is pretty much a one-road affair.  It sports a wall of concrete hotels along the expansive bay, most of which are on the tired side of time and cater mostly to backpackers with thin wallets.  A number of newer hotels exist, even a couple resorts tucked in sandy coves with pretty beaches.
We greatly enjoyed our family run hotel, albeit basic it had everything we needed: clean, comfortable and safe.  Moreover, our private and impressive 7th floor terrace provided sweeping views of the bay, the main strip, and the mountains surrounding town.  Each morning we awoke to locals practicing tai chi in the park beneath us, and were serenaded each evening by the distant melodies of chatter and scooter traffic from the town below.  We could not believe that for most of our stay we were the only guests.
Cat Ba has a lively market, a slew of fish-and-rice joints, floating restaurants boasting tourist fare and loud music that was cranked whenever the stray patron arrived via rowboat.  One particular restaurant near our hotel blasted karaoke each evening until 11:00 PM, when the cursed machine was promptly turned off often mid song (we think the local curfew is 11 PM).  Actually we sort of enjoyed the music; it fortunately was not too-close-for-comfort and we got a kick out of the awful singer (the karaoke-loving restaurant owner, we assumed).
There are three nice beaches (impersonally named Cat Co 1, 2 and 3) tucked in coves just a quick walk from the center of town.  I used used Cat Co 2 (the prettiest and most laid-back) for more aerobic exercise.
We also hiked up to Fort Cannon just above town, a hilltop garrison built by the French over a century ago and used during each war since (the Japanese in the 1940's, the French in the 1950's and the Viet Cong in the 1960's).  Despite its inauspicious purpose as a military compound, the view of the Ha Long bay is faultless.
Sights around the Cat Ba Island
We rented scooters and traversed the length and perimeter of Cat Ba Island on its empty roads, through villages, past fruit groves and farms, in-between limestone peaks and along thick jungle forests.
There's not a lot going on here, the relatively-large island (about 100 square miles) boasts only 13,000 residents (although anther 4,000 live on floating fishing communities surrounding the island).  But the varied terrain and vast emptiness is a welcome change to the craziness of Hanoi's Old Quarter, so we enjoyed the fresh air, sunshine and sights on our rented two wheelers.