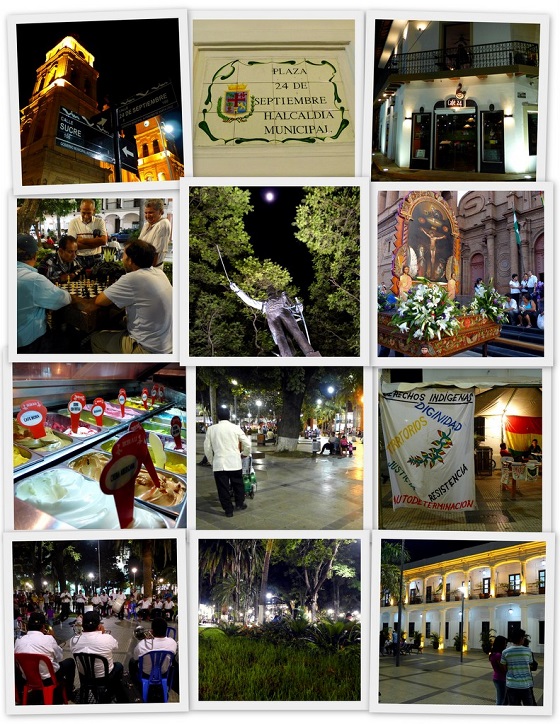 The plaza principal in Latin America is an amalgam of the social, cultural, religious and political life of latinos. Here is where you find it all: protests and politics, seasoned romance and youthful exuberance, food and festivals, lush foliage and (occasionally) flowing fountains, majestic churches, music and laughter, promenading locals encircling comedians, Bible thumpers and magicians. The plaza reflects the people.
I wander the main Plaza 24 de Septiembre in sultry Santa Cruz de la Sierra in eastern Bolivia, so-named to honor the auspicious day in 1810 when the city joined the Buenos Aires junta rising against Spanish colonial rule.
On this night surrounded by the crowds and energy of the plaza, I find myself alone but not lonely. Paul left this morning after three marvelously companionable weeks crossing the country. This is the picture I see around me, a whirling world of sights and sounds and smells.
A light breeze – it's cool and calm. I feel peace here – the plaza statues and structures implant a steadiness of manner and composure. But the chaos of motion and noise speak otherwise: the plaza is punctuated with bursts of laughter, the absurd tones of ringing cell phones, chatter and song, roaring motorcycles and honking horns.
I hear a marching band playing never-ending tunes of jazz classics and tangos while children dance. Adults gather around, eating ice cream and sweet puffed corn. Teenagers everywhere huddle in groups, noticing everything while trying not to be noticed in that touchy adolescent way.

Green growing things are everywhere: sago palms diffuse the light from the bright flood lamps; the thick grass is trimmed low and protected with fences and stern keep-out warnings: no pise el césped.
A sweet-smelling flower lands on the bench beside me. I glance up at the tree carelessly dropping beautiful chiffon blooms. Ah, the sweet natural perfumes and rich blossoms that abound in tropical Latin America, such a year-round profusion and bounty that still seems strange to my northern sensibility.
Mendicants sleep on benches, locals swing through café doors and dine at Italian restaurants. The hoi polloi of this boom town sip expensive cocktails of imported liquors on terrace rooftops. An old man on the bench across from me, his belly protruding from his unbuttoned shirt, rests his leg on his rustic cane. He is weary but unperturbed. Beside me a young couple texts silently, their fingers nipping across the mobile phone keys. They are together but apart. 

I glance at two passersbys eating potato chips, so slowly and so deliberately and so drawn into themselves as if walking a tightrope. In the corner of my eye I catch a young girl doing cartwheels. People pass me wearing T-shirts with bad English such as "SuperBufalo", "Miky Mouth" and "Dinamyte Hard".
In one corner I come across a protest for native-Americans, banners proclaiming "Dignity! Justice! Resistance! Self-determination!" In another I see a Macarena laden with flowers and warmed by candlelight surrounded by ladies dressed in purple robes preparing for the procession. At the center of the plaza is the statue of Ignacio Warnes, local independence hero of 1810, his sword forever raised and heading to battle.  War, religion, indigenous rights… the unresolved history of Bolivia.

Chess players sit at tables, serious and concentrating but with bonhomie. A crazy lady talks non-stop about crossed lovers. Trash-talking some "Julia" while those nearby ignore her, even the chess players, even me who hopes she doesn't come my way.
Sprightly coffee vendors scurry by dragging strollers with carafes filled with flavored coffees, pouring the milk and hot coffee with flair. Uniformly dressed in white jackets and black pants, they are a throw-back to another time: of monochrome moving pictures and ladies with coiffed hair. Such ready availability of coffee is rare; Bolivians do not consume coffee as we do so it is a pleasure to find it here in the plaza.
Bright, imposing and lording over the square, the unusual brick cathedral weighs down one of the plaza's corners. White imperial colonnades and a line of commanding colonial buildings squarely flank the plaza on all sides. The grandly renovated Art Deco asserts its English name "Palace Theatre" refusing to conform to Spanish.
There's a patient street sweeper slowly brushing up the fallen flowers from the bursting trees in bloom, her outfit the colors of the Bolivian tricolor (red, yellow, green). Still there are those who work even at this hour when most are idle. Pepped and punked, three skateboarders ricochet past my bench, leaving disturbed pedestrians in their wake.
Absorbed yet relaxed amidst the full flavors of Latin America, I leave the Plaza 24 de Septiembre and head back to my hotel.