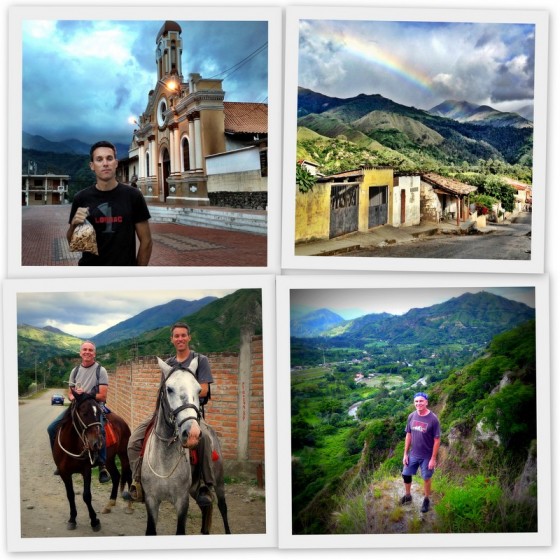 We rushed to escape the clouds and cold of Cuenca, traveling about six hours south to the small town of Vilcabamba. Nestled in the green hills near the Peruvian border, Vilcabamba has attracted a fair number of expatriates who appreciate the laid-back feel, the mild climate, the relative isolation and its attractive natural setting.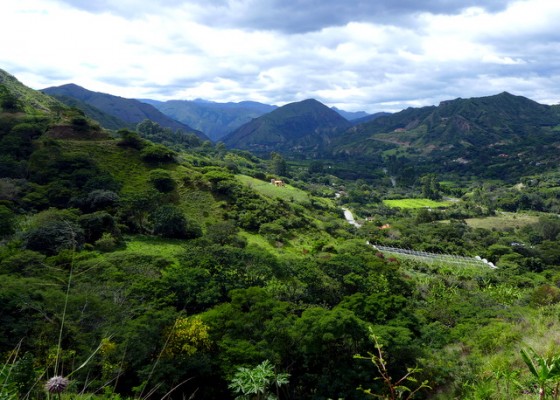 Paul and I immediately took to the town. We settled into our cozy hostal just a block off the main square, replete with a hammock on the balcony and lush gardens inside the expansive walled patio. We chatted with the caretakers, an English-Romanian couple who own a well-regarded restaurant in Cuenca and agreed to run the hotel in Vilcabamba while their friend/hotelier takes a much-needed sabbatical.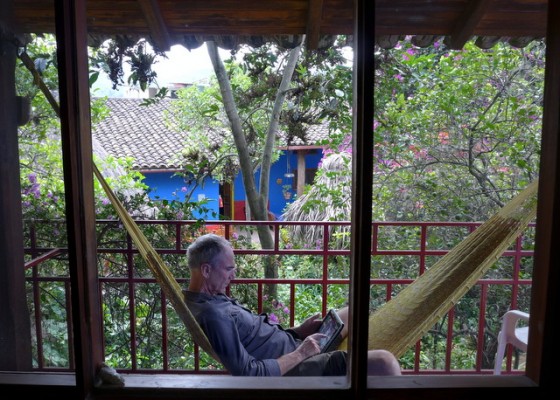 Vilcabamba has a great feel. It attracts a trickle of backpackers and the expat residents are mostly alternative/hippy types who seem to integrate well with the locals. We met young and old, and many families live here. It's not uncommon to see bilingual European or North American kids playing in the main square with their Ecuadorian friends.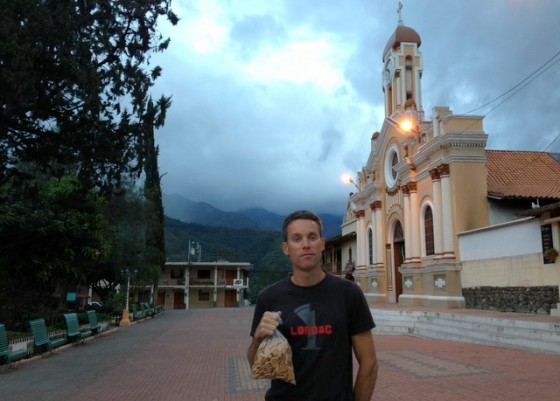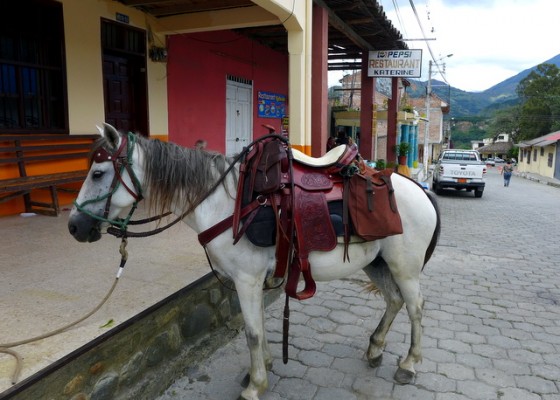 Vilcabamba reputedly has an unusually high number of centenarians thus earning the "Valley of Longevity" moniker.  Lots of reasons are cited for this, namely diet and lifestyle, as well as the strong anti-oxidant protection found in the fruits and vegetables in the region. Even a Nobel Prize winner for chemistry claims that certain areas near the Equator have unusually healthy properties. Many here assert that Vilcabamba lies in one of those blessed zones.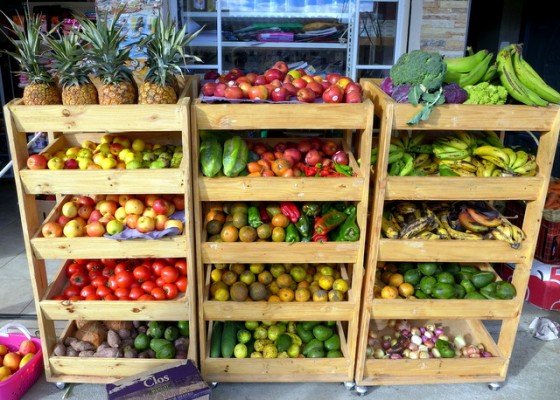 Possessing supreme medicinal powers or not, the food deserves special mention. Vilcabamba offers appetizing international food (great fresh salads and wood-fire pizzas, veggie fajitas, organic chocolate and a panoply of fruit smoothies) and solid local fare (tasty $2.50 set lunches featuring plantain soup and local trout, a tidy market with all sorts of green groceries, a couple of excellent panaderías well-stocked with sweet bakery goods).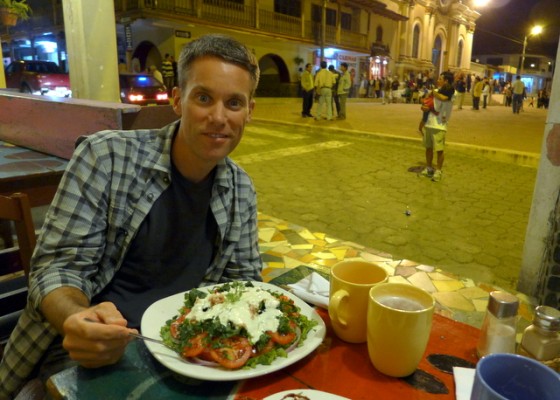 Even our breakfast at the hostal featured home-made bread, pineapple jam and the quintessentially Ecuadorian tomate de árbol (known as "tree tomato" or "tamarillo"), a tangy and nutrient-packed fruit served primarily as juice but also sweetened and stewed as a dessert.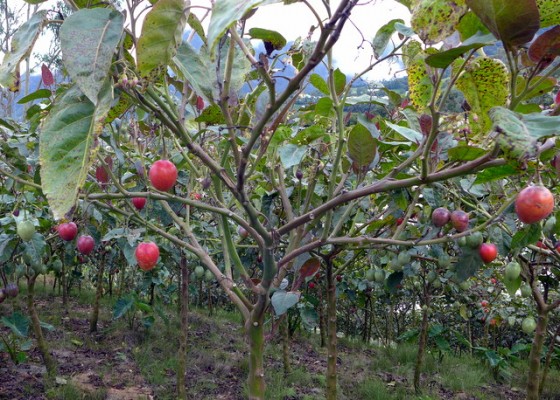 There's a lot going on in small-town Vilcabamba: one night we listened to jazz at a café (featuring a saxophonist who played with the Alan Parsons Project), day trips to organic farms, Spanish lessons, iridology and aromatherapy seminars, aerobic salsa dancing, massage and of course the plaza is filled each evening with laughing children and vendors selling jewelry, art and organic baked goods (we sampled veggie empanadas and rich chocolate balls flavored with coconut and ginger).
Even a circus rolled into town for the weekend, which Paul and I thoroughly enjoyed.  It was great fun to watch the small retinue of performers who filled the tent with heroics and antics.
We took full advantage of Vilcabamba's great outdoors. We hiked up a canyon to a small spring, taking in views of green pastures with grazing horses and fields with potato plants just starting to spring from the ground. We met a nice young Swiss hiker as we summited the eroded Mandango peak, known locally as the "Sleeping Inca" who protects the area from earthquakes and other natural disasters. The 360° views of the expansive semi-tropical world below us were magnificent.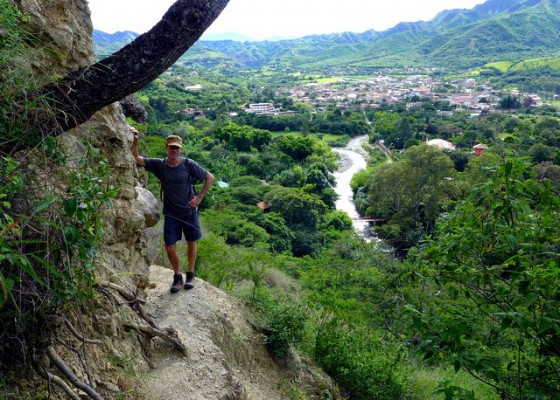 We crisscrossed the nature trails of a nearby eco-tourist farm, noting the varied medicinal plants and trees that have long healed locals in the area.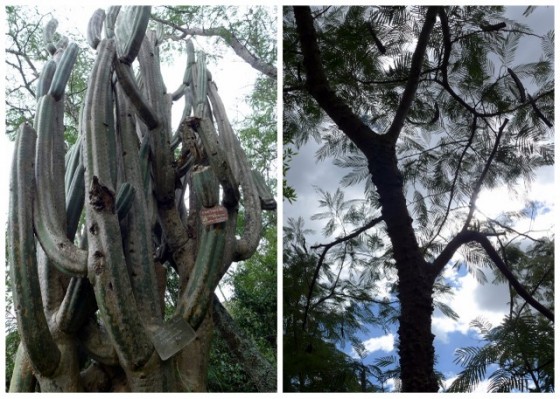 And we walked past fragrant lime and cherimoya trees, besides coffee plants showing off waxy green beans, and beneath towering banana trees bending under the weight of big bunches of fruit.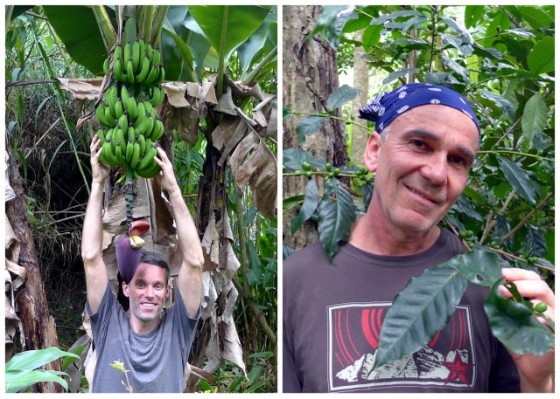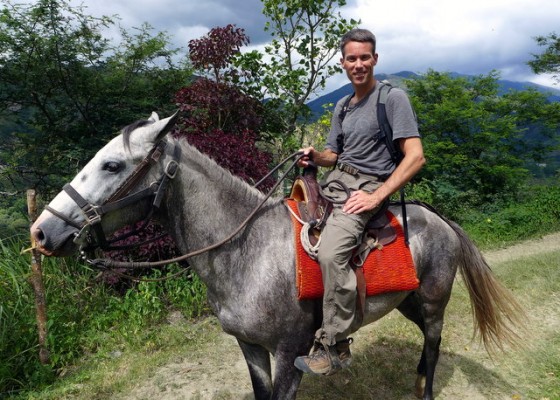 And we went on a half-day horseback ride on the outskirts of town, a highlight of our visit. Atop our trusty Cortez and Tequila, we rode past sugar cane fields and papaya trees, we climbed steep hills, enjoyed fine views from ridge roads, and we galloped back into town (which hardly raised an eyebrow – definitely a chill town!).
We met many engaging people in Vilcabamba, the kind of travelers interested primarily in being part of the community and enjoying the natural world: the nice Canadian couple who are extended travelers (they just got off a year-plus trip through Asia), the earthy-crunchy woman who lived in Mexico and is looking perhaps to retire in Ecuador, a couple of Peace Corps women living in the rural areas north of Vilcabamba, the kind retired couple from the US who live on the coast and gave us great information and insights into living here, and a chatty guy my age from Guayaquil who discussed veganism in Ecuador and shared stories of his cacao exporting business (organic beans, of course).
It's clear that that Vilcabamba attracts very stimulating people and that what makes the town so special.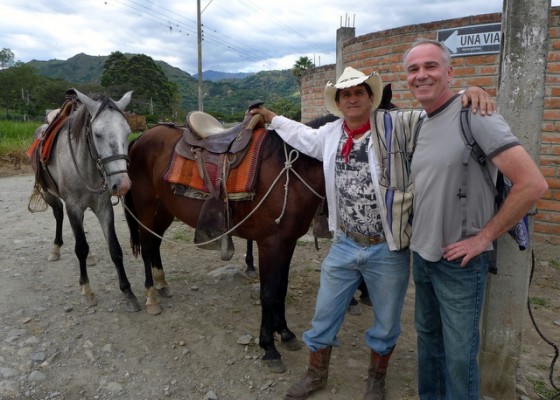 Paul and I lingered in Vilcabamba for several days longer than we anticipated. There was no reason to leave: the weather was pleasant, the food flavorful and sustaining, and our hotel relaxed and comfortable. Every day was fun, peaceful and filled with fresh experiences.
Vilcabamba proved very good for our souls, let's hope it added some years to our lives as well!