After three weeks in the magnetic city of Salvador I was getting mighty used to its comforts, neighborliness, and vibrant Afro-Brazilian culture – not to mention two rollicking weeks of non-stop festivals. I was falling for its charms and feared I might never leave.
Yet as alluring as Salvador is, underneath the party dress it's a dense and exhausting city. I was ready to move on to somewhere more relaxed.
The beach was calling me…
So the inner rambler got me packing and off I went to Morro de São Paulo via ferry, bus, riverboat and finally wheelbarrow (i.e. "taxis" on the car-less island). On the boat over I met two robust Uruguayans, Marisa and Rosita. We hit it off instantly.
The gals lassoed me into staying with them on the Segunda Praia (aka the Party Beach) where we could split the costs for a triple room which would be about the same price as bunks in the hostel. Sounded good to me – my intuition gave me the green light so I bunked with two crazy chicas for the next four days.
Local tout Luis latched onto us as soon as we stepped off the boat. He was at first our taxi driver (i.e. hauling our backpacks in the wheelbarrow), then our hotel booking agent, and later our "Julie McCoy," planning our activities and events. He received a kickback from the operators (i.e. no cash directly out of our pockets) and he was goodhearted in nature and genuinely friendly towards us.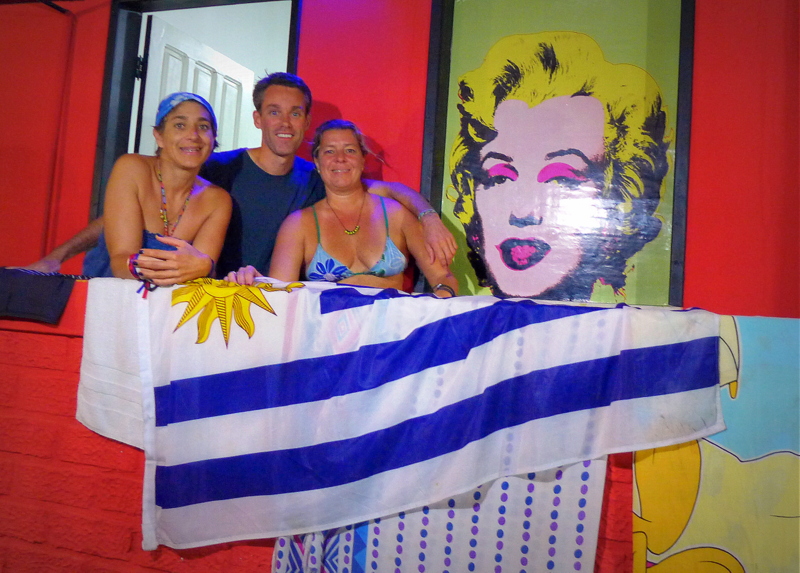 We stayed at the personable Marilyn Café (as in Monroe) where we rented a second-floor triple (with a spacious terrace) right on the beach with great views of surfers, volleyball players and passing pedestrians. The owner, Alessandro, a transplant from Milan who landed in Morro de São Paulo, fell in love with a Brazilian beauty and started a business and family. The pousada was small and family run and the perfect place to kick back for a few days.
Quaint and colonial Morro de São Paulo, perched at the northern end of Ilha de Tinharé, can be magical: the beaches are pleasing, the atmosphere is laid back, and the nightlife is chill with candlelit dinners and easy-breezy music. People are receptive, fresh-catch seafood and ice cold beers are always at hand, and the rhythms of surf and samba flow through the air.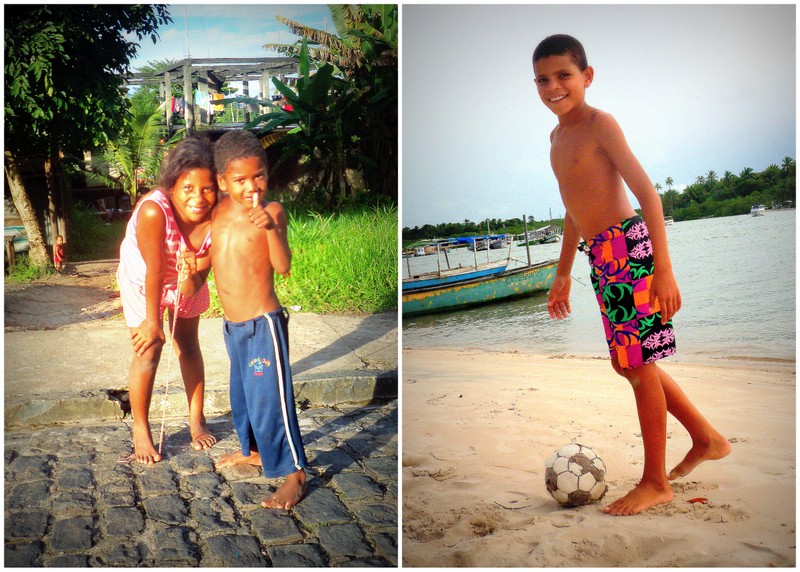 Morro de São Paulo is touristy. Very. A fortress outpost established in the early 1600's, it protected Portugal's American Empire for three centuries. But Morro de São Paulo has been less successful in withstanding the tourist invasion in recent decades. This onslaught has turned practically every square inch into a pousada guesthouse, café bar, pizzeria or flip-flop shop peddling the ubiquitous Havaianas brand – Brazil's de facto national footwear.
Salvadorans, Brazilians, Argentines and Uruguayans flock here in droves – especially on weekends – but the island does a respectable job of absorbing the masses. With the right attitude, Morro de São Paulo is pure pleasure.
Here are some of the qualities I enjoyed most during my five days on the island:
Sensationally Scenic
Morro de São Paulo town and its encompassing Tinharé Island are places of special beauty: 17th-century fortress walls and carved stone gate, a flashing lighthouse, sandy pedestrian lanes, sleepy fishing villages, and unending aqua-and-emerald vistas. Dendé palms, harvested for the rich palm oil used in regional Bahian cooking, line the crystalline shores. It all adds up to one delectable tropical paradise.
Companionable
The people I met on Morro de São Paulo were the best part of my experience. Thanks to the gregariousness of my two new Uruguayan besties we were always meeting friendly faces: local islanders, Brazilians on holiday, and a slew of Spanish speakers seeking a sunny escape from their chilly Southern Cone winter.
Due to the centrality of our pousada right smack in the action on Second Beach, each evening we hosted cocktail hour on our terrace with our new friends: "Os Luis" (the father-and-son combo from São Paulo), Roberto and Denise from Rio Grande in southern Brazil, Argentine pensioners from the bottom of the continent in Tierra del Fuego, and a Uruguayan expat who fled the repressive military dictatorship in the 1970's and never returned. We enjoyed a great diversity of faces and conversation over beers and appetizers before heading out for dinner and dancing.
Fully Flavored
Morro de São Paulo delivers when it comes to culinary delights: seafood of all sorts, luscious sorvetes (ice cream) and frozen açai (a palm fruit superfood), simple mom-and-pop baihano eateries featuring local favorites, a variety of Italian bistros with good vegetarian choices, and cafés offering sweets, pastries and shots of sugary cafezinho.
Gratifying
Boat tours by day, fresh-fruit cachaça cocktails by afternoon, and dancing to samba by night – with plenty of time in-between for R&R. I had a lot of fun on Morro de São Paulo!
Splendidly Sandy

Last but certainly not least – and the reason I came to Morro de São Paulo – was to enjoy the beaches. Being an island, there is no shortage of beachfront property. The sands chain eastwards from the center of town and are simply (if uninspiringly) named: Primeira Praia (First Beach), Segunda Praia (Second Beach), Terceira Praia (Third Beach), and so on.
Each beach has a different personality: First Beach is full of soccer players, surfers, and adrenaline seekers riding the zip line that plunges into the waves. I swam and people watched on Second Beach where sun seekers lounge in chairs and families play in the waves, and martial arts aficionados practice capoeira. On Third Beach I snorkeled and ate southern Atlantic langosta. And I went for long walks (and runs) along deserted Fourth Beach. There are beaches for everyone!
Morro de São Paulo, overtly touristy yet charmingly relaxed, was a great spot to recharge my batteries before heading into the deep Brazilian interior where distances are great and travelers are few and far between. And I am grateful for fortuitously meeting Marisa and Rosita – they made my lively island adventure full of friendly and foolishly good fun.