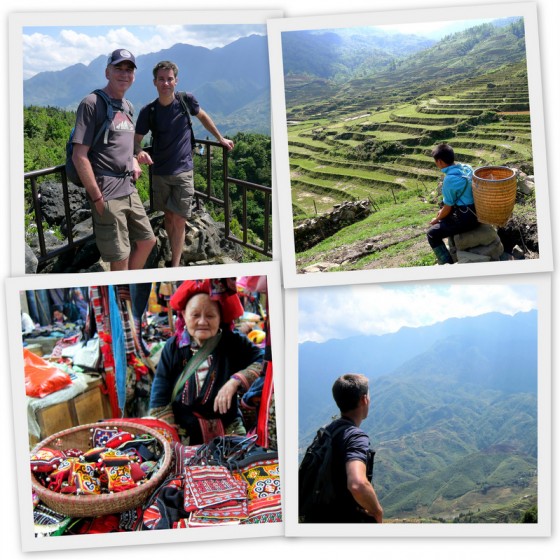 After a long, restless night on a cramped "sleeper" bus from Hanoi, at 5 AM we pulled into Sapa, Vietnam as the rain poured down on us.  We drowsily slipped into a cafe to warm and caffeinate our bodies.  When the sky brightened for a moment we were off to find a hotel in the mist-ensconced mountain town tucked high in the northern highlands, not far from the Chinese border.
This was not the most ideal introduction to Sapa, but after a shower and quick nap we soon experienced the many wonders of this town.  It attracts tourists mostly for its rugged alpine landscapes with soaring mountains and for the many hill-tribe villages of H'Mong, Dzao and Tay ethnic minorities not far from town.
With less than a week remaining of Paul's vacation we had wanted to get partway into Laos but the realities of time sank in and instead we opted for Sapa as our final destination together.  He would be just an overnight train ride away from Hanoi and could easily fly to Hong Kong for his return home.  Getting to and from Laos would be a much trickier (and rushed) matter.
And we were more than pleased with this choice: within a day the rain stopped and sunshine lit up the valley.  Our remaining days were filled with excellent and interesting walks, fine meals and relaxation in the friendly and outdoorsy town.  Restaurants offer delicious local specialties, such as H'Mong sticky rice (roasted in bamboo stalks), roasted vegetables from nearby farms, grilled fresh-water fish, and delicate soups and hearty stir fries brimming with indigenous mushrooms from the hills just outside of town.
And the climate is especially agreeable: days in the 70's and low 80's with dry air and afternoon valley breezes, and chilly nights (often requiring electric blankets).   Occasionally dark clouds would roll in and produce a gentle rain or downpour, usually not lasting an hour and soon sunshine would return.
This constant cycle of washing rain and dry mountain sunshine lends Sapa a cleansed, refreshing feel dissimilar to the hot, dusty feel of the lowlands.  I would soon journey to Laos and Cambodia where temperatures are hottest in April reaching 100°F with high humidity.  So I enjoyed the ideal Sapa weather of mild days and cool nights while I could.
The vibe of Sapa town is great – a healthy mix of travelers (lots of backpackers and outdoor enthusiasts) and good-natured locals.  And the plucky hill-tribe vendors from the valley villages ply the streets with their textiles, beautifully hand woven and embroidered in the style of their particular tribe.  For example, the H'Mong wear darker clothing with subtle yet colorful patterns that identify their specific tribal group: Black H'Mong, Red H'Mong, White H'Mong, etc.  Dzao women shave their heads above the forehead and the sinuous lower locks are tied around bright red hats.  Most younger hill-tribe men wear western clothing, while the older men still dress in the traditional long vestiments of their ethnic group.
Continue reading "Getting High on the Villages, Valleys and Views of Sapa, Vietnam"