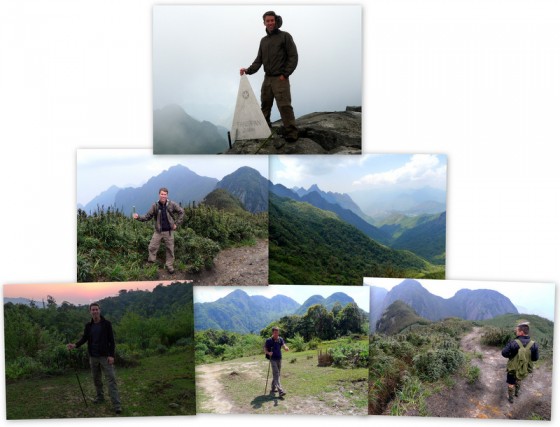 I always enjoy a good climb so the prospect of summiting the highest mountain in Vietnam (and indeed all of Indochina) more than piqued my interest.  Mount Fansipan, or Phan Xi Păng in Vietnamese (we referred to it as "Fancy Pants"), is part of the Hoang Lien Son mountain range and the easternmost end of the Himalayas.
When I learned this I was sold — to stand at over 10,000 feet atop the last major Himalayan peak before the ocean proved too hard to resist.  And the weather was improving in the region so Mt. Fansipan, which was hidden in clouds earlier in the week, was now starting to show its face.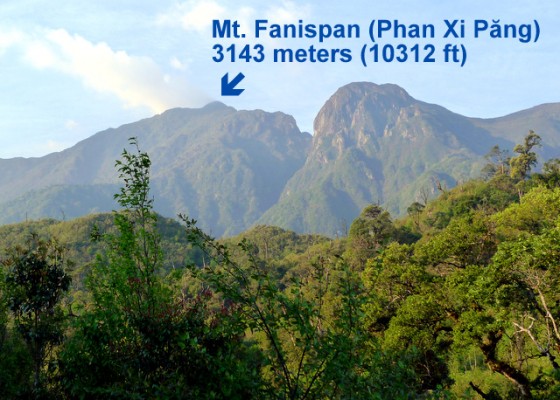 I learned from local agents in Sapa that the climb is not extremely technical but is strenuous and steep so most trekkers opt for a 2- or 3-day ascent.  I was feeling strong from our rigorous valley walks so shopped around for a guide that would do the climb in a day which I was assured is reasonable if starting early.
Unfortunately there were no group 1-day trips leaving (which would have lowered the price) so I engaged a private guide for $65 which I thought was fine, especially given that the National Park entrance fee costs $20.  So $45 for a private guide, transport to/from the trail head, and all food/water I figured this was quite a deal.
I ate a hearty pasta dinner in preparation for the trek.  Just before bed, I glanced at Mt. Fansipan from my hotel terrace.  Its cloudless silhouette under a starry sky filled me with anticipation for tomorrow's lofty challenge.
Continue reading "The Roof of Indochina: Atop Mount Fansipan (Phan Xi Păng) in Vietnam"